5 Reasons Why You SHOULD Do a Hiking Tour
Are you visiting the Hawaiian islands and you've already done the usual Diamond Head and Manoa Falls hikes? Or maybe you've been here for years and you're looking to try something new?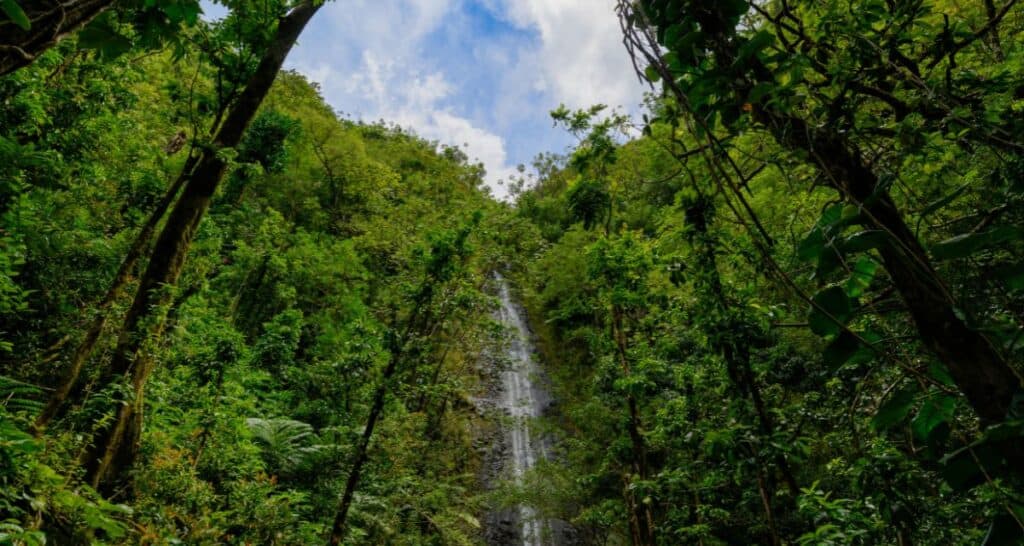 Now while these five reasons are in relation to hiking tours here in Hawaii, they can actually be applied for hiking tours anywhere.
Disclosure: This post may contain affiliate links, meaning if you decide to make a purchase through my links I may earn a commission at no additional cost to you. See my disclosure for more info.
Our Experience:
Prefer to watch a video instead?
Hiking. I absolutely love it. Well, sometimes. I hate sweating but those views are worth it.
Over the years, I had done a few hikes on Oahu but it wasn't until May 2020 that I really got into it and started making Hiking how-to videos showing the different hikes/trails that I had done around the island. The first decision to make is if you want to do a self-guided hike VS a guided hiking tour.
First off, it really depends on what kind of hike you want to do and your comfort level. There are SO many hikes around the island. For any hike you choose, make sure you are properly packed for it.
SELF-GUIDED
Beginner / Family-friendly
For these kinds of hikes, there's quite a few on the island.   Some of my favorites that are well-trafficked are: Diamond Head Crater ($5), Makiki Valley Loop Trail (free), Makapuu Lighthouse Trail (free) and Waimea Valley Botanical Gardens ($20). These hikes are well-maintained trails or are completely paved (latter two). For many, a nature walk in Hawaii with gorgeous views is the goal. These hikes are easy, reasonably short and low-key.
Advanced
Always, ALWAYS watch the weather – not only for the day of your hike…but for a few days BEFORE your hike. Even if the day you GO is sunny, some trails can be dangerous if it has rained a few days prior as the trail can be washed out or extremely muddy.  If you are going on a more advanced hike (such as 3 Peaks), make sure to thoroughly research the hike and check the reviews from AllTrails for current user-submitted info. Keep in mind, the weather in Hawaii can be seasonal with Dec-Feb being our "winter" season and the wettest time of the year. If you're going on any ridge hike, it's best to make sure it hasn't rained for a least a few days prior.
GUIDED HIKING TOURS
​Guided Hiking Tours are great if you want the narration of where you're hiking with a knowledgeable guide.  Like any tour, an amazing guide can let you get so much more out of your trip! It's also a great option if you don't have a rental car as these tours will provide roundtrip transportation! For some beginner/novice hikers, this might be the way to go especially if you are hiking an unfamiliar area and want a nice, worry-free hike.
​
My favorites are OAHU NATURE TOURS and HIKING HAWAII. Both offer smaller, more intimate group sizes for their tours with knowledgeable tour guides.
Local Tips:
Download the ALL TRAILS app on your phone. It's a free app that is kind of like the "Yelp" of hiking. There's a map and general info about the hike. Then, there's user-submitted posts AND photos about each hike. Most people will also provide some information that they wished they knew before they did the hike. I would definitely recommend reading through the posts before you go on an unfamiliar hike.
There's also a premium version of the app that's about $30/year. You can download hiking maps on your phone so you know where you're going even without a signal, the app pings you if you are off-route, and there's a "Lifeline" which is a real-time tracker so your safety contacts know where you are. I actually got lost on the MOUNT OLYMPUS HIKE (was chatting with my hiking buddy and missed the turn) and THAT is the reason I upgraded and got the premium. Some of the less-trafficked trails tend to be less maintained and it's easy to miss a turn…going the wrong way for 30 minutes…before realizing you're off-track.
Click HERE to check out AllTrails.
​
Reason 1: You're on Vacation and You're Short on Time
Vacation time is valuable and oftentimes there isn't enough.
As an example, years ago when I visited New Zealand, I was staying in Auckland. I had a bunch of different activities planned over the week that I was there and I only had a very, very limited window of free time. I had about half a day to use and I was looking to do something that would fit within that time constraint.
If you've never done a particular trail before and you're unfamiliar with the area, it can be tricky sometimes to find the trailhead. And if again you're short on time and you get lost, it would be difficult.
I live here on Oahu and not too long ago I did the Olomana Trail, also known as Three Peaks. We went on a surprisingly busy day and when we got to the area where we thought we were supposed to park, there wasn't an area to park. Instead, that area was marked off with lots of tow-away signs and we had to find alternate parking and then walk back up to the trailhead. Even then, we had difficulty finding the trailhead.
For myself and my friend, we had the whole day free. We lived here on the island, so these few things were a few hiccups, but overall it was fine because we had the entire day free.
However, if you're on vacation and you're short on time, these little hiccups could affect other things throughout your day. For example, if you decide to go on a hike in the morning and then that afternoon you have a luau or a sunset cruise booked and you're running a bit late because of the morning hike, that could cause a problem.
Reason 2: You Want to Hike but with Minimal Preparation
With all the hustle and bustle that comes before planning a trip, oftentimes you don't have time to research what hikes that you want to do. You want to do a hike in Hawaii – and you just want to show up and hike. This is reason number two why you should book a hiking tour.
Once you book a hiking tour, that's pretty much all you need to do.
Say less.
Recommended Items
Depending on the company, they'll typically email you a list of recommended things that you should bring and oftentimes all those items (as rentals) are included as part of the tour price.
You don't have to fill up your valuable luggage space for things that you're only going to use once or twice in your entire vacation.
Some examples:
Ponchos – for the rainforest
Bug spray
sunscreen
Hiking sticks
Water
Snacks
Skip the Car Rental
While car rentals can be a great value, renting a car specifically just for 1 hike may not be. Some hassles you avoid by skipping renting a car for 1 hike:
You don't have to worry about finding gas stations.
You don't have to worry about an international driver's license if you're traveling from outside the U.S.
You don't have to worry about driving on the opposite side of the road if you're traveling internationally.
You don't have to worry about paying for expensive parking at your hotel.
And depending on where you rent a car and what's available, it might actually be cheaper to do a tour if you're only renting a car to go to a hike if you are only 1 or 2 visitors arriving during PEAK SUMMER SEASON (June/July/August) when rental cars are more expensive than normal. When you take into account the cost of the car rental, gas, insurance, parking, your hotel, it can add up really quickly.
Reason 3: You Want to Try an Unfamiliar Trail
I absolutely love hiking. I got more into hiking during quarantine of 2020 and I tried different trails.
If you've been on this channel since we started, you'll know a lot of the videos we posted initially were all hiking videos. It was essentially a compilation of things I learned on specific hikes: what to wear, what to bring, footage of what the actual trailhead looked like (some were trickier to find than others) , as well as footage of the hike itself.
For some people, this is one of their first hikes in Hawaii or they're a complete beginner hiker. It can create a little bit of anxiety. This is reason number three why you should do a hiking tour.
The trails typically chosen for hiking tours tend to be crowd favorites. They're usually beginner to intermediate trails for most fitness levels and they're typically very well maintained. But of course, there are some specialty hiking tours for more advanced hikers.
Reason 4: You Want to Learn a Little Bit More About the Hiking Trail & History
For some people, you want to hike to be outdoors, whereas other people want to learn more about the area that they're in.
If you're interested in learning about the area that you're in, as well as plants that you're going to be seeing on the hiking trail and getting more in-depth knowledge about it, you might like a hiking tour.
As an example, a few years ago I went to Greece and I visited the Acropolis. Some of my friends decided to pay for just admission. Myself and another friend decided to pay for admission PLUS a guided tour.
It completely changed our experience.
We learned a lot of different things about the Acropolis that we normally wouldn't have. And my friends and I, we didn't have very much time to research the Acropolis, so paying for the tour allowed us to learn so much more about the Acropolis than we normally would have.
Hiking tours are similar in that regard too. If you're really interested in the history and the culture of the area that you're in, you might enjoy a hiking trail to get that in-depth knowledge from a guide.
Reason 5: You Want to Meet Other Hikers
Sometimes when I'm traveling alone, I still want to go hiking, but I don't necessarily want to go hiking in an area that I'm unfamiliar with solo. If I'm traveling internationally, I might have spotty phone service. Everyone's background and level of comfort is different.
Sometimes going on an organized hiking tour takes a lot of the stress and anxiety out of the actual activity and allows me to have more fun on the activity itself.
Sponsored Hike | HIKING TOUR
Recently I did a hike with Bike Hawaii Tours. They take you on a volcanic rainforest hiking tour up Mount Tantalus. All the footage that you've seen throughout this video is from that hike. If you've already done the extinct volcanic crater Diamond Head, this hike might be for you.
Total elevation was about 600 feet. The guide tells you about indigenous plant species while you're hiking on the trail, plus you learn a little bit about Hawaii's culture and its history. The hike is gorgeous and you see a lot in a small amount of time.
This hike is pretty cool because it's actually three trails that connect into one. Plus, this is a hike that I hadn't done before, so it was cool for me too. And I'm also really interested in history, so that's a plus.
Overall, I had a great time and it was a short hike that only took about half a day. I'll leave a link in the description box below if you're interested in doing this particular hike.
MORE Hiking Info is BETTER
I absolutely love being outdoors, and during quarantine of 2020, when pretty much everything was shut down, I got more into hiking with a few friends.
I really liked making hiking videos. As a new-ish hiker, I would do a hike and then take mental notes of things I wish I knew before the hike. And I like sharing that with other people. I think sharing knowledge like that makes hiking safer and more accessible for everyone. It makes it easier to let you know what you're getting yourself into and for you to choose the right height for you and your fitness level. And it could help prevent potentially life-threatening medevac or Helevac (helicopter evacuations) rescues.
Because for me, when I found a hike and I didn't really like it, it often had nothing to do with the hike itself, but rather how UNPREPARED I was for the hike. Whether it was a much more difficult hike than anticipated, I didn't bring enough food or water, I got lost on the trail, I had trouble finding parking, there was always something that went wrong in the hike which made it a bit more difficult for a new hiker starting out.
Oftentimes the videos or blogs that I read were outdated or they were seasonal. As a simple example, if you were doing the Manoa Falls hike and you didn't know that that area has lots of mosquitoes, if you didn't bring bug spray, you did the hike and were eaten alive by mosquitoes, naturally you might like that hike a little bit less than somebody who was more well prepared.
Overall, when it comes to hiking, the more knowledge you have the better and safer it is. One of my favorite hiking apps to use is All Trails, and I definitely recommend that you download it. It's a free app and it's kind of like the Yelp of hiking. Within the app, it has lots of information about specific hiking trails and there's even a place for users to submit their own reviews and updated information on hikes that they do.
Now, before I do a hike, I like to read through those reviews so I can see any updated information from somebody who's done the hike recently. Something that might be important to know, such as if parts of the trail were completely washed out because of the rain.
And if you do go on a hike and you have the app and you finish a hike, take a few minutes to just update the review. That way, other people can know that information.