How to Hike to Manoa Falls
Manoa Falls. It's a 120-foot waterfall located on the island of Oahu. Manoa Falls is a family-friendly and well-maintained trail, and it's only a 15-20 minute drive from Waikiki.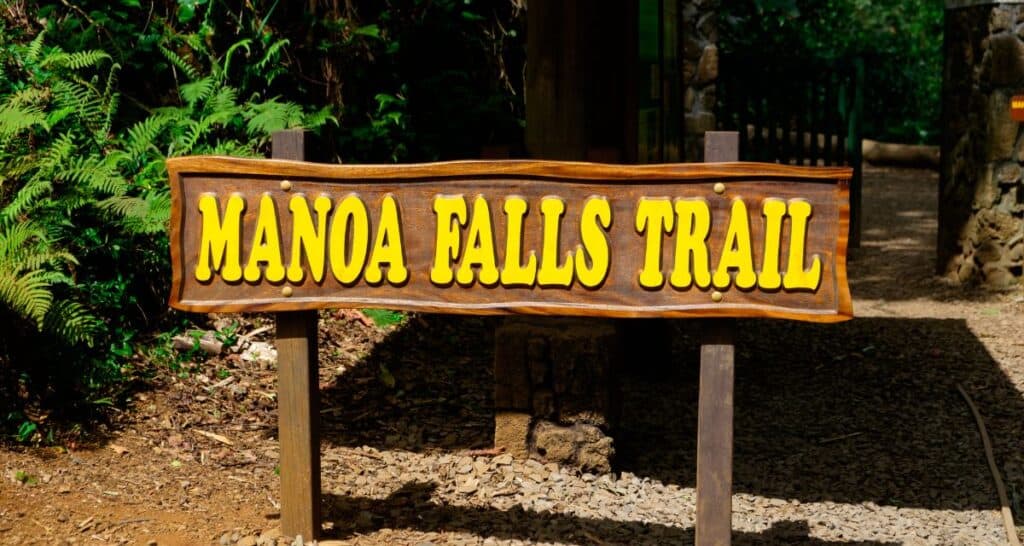 I'll show you the different ways you can get there, and what to expect when you arrive. You can head to Manoa Falls on your own (self-guided) or go via organized hiking tour.
Disclosure: This post may contain affiliate links, meaning if you decide to make a purchase through my links I may earn a commission at no additional cost to you. See my disclosure for more info.
Adventure At A Glance
Starting Point:
Manoa Falls | 2-mile round-trip to a 150ft waterfall
What's Provided:
Bottled water / Guide / Waist pack / Rain jacket / Mosquito repellant
What to Bring:
Comfortable shoes
Our Experience:
Watch YouTube video
Check out this YouTube video on our full trip
Getting to Manoa Falls
RENTAL CAR | The easiest way is to drive there in a rental car. There is a designated parking lot where you can park for $7 (for visitors) or $4 (for residents).
MOPED | Another option is to rent a moped. Hawaiian Style Rentals, located on Lemon Road, is a great spot to rent a moped. Just keep in mind that once you get closer to the falls area, there are potholes that can SHAKE YOUR MOPED if you're not paying attention.
CITY BUS | You can also take the city bus to Mānoa Falls, but I wouldn't recommend it if you're planning on doing a hike. You'll be sweaty and muddy on the way back, and you'll have to transfer buses.
HIKING TOUR | Organized tours are another option for getting to Mānoa Falls. Bike Hawaii Tours offer transportation to and from the falls, and you'll get a narration of the Hawaiian history on the way. This is a great option if you're interested in learning more about Hawaiian culture and history.
What to Expect
Once you get to Manoa Falls, you'll find a bamboo forest and banyan trees. The trail is also well-maintained and is mostly gravel. The bamboo grows to full size in just six months, and the banyan trees were brought over from India as a gift to the Hawaiian monarchy.
I would recommend wearing comfortable shoes with a bit of grip, as the trail can get muddy. I'll leave links in the description box below for what I normally bring on hikes like this.
After the hike, you can head inside to Paradise Park, where they have a small concession stand with snacks and drinks.
Yes to Hawaii is an affiliate partner with Hawaii Activities. If you purchase a tour/activity with the links that we provide, we will receive a small commission – at no additional cost to you! We love sharing what each tour is like so you can choose the best tours/activities for you and your family. We love helping take the guesswork out of your Hawaii trip! Booking the tour through our links helps support us bring you free Hawaii and travel content every single week. Thank YOU!