7 Unforgettable Hawaii Experiences (that cost $$$)
Are you looking for unforgettable Hawaii experiences? Look no further!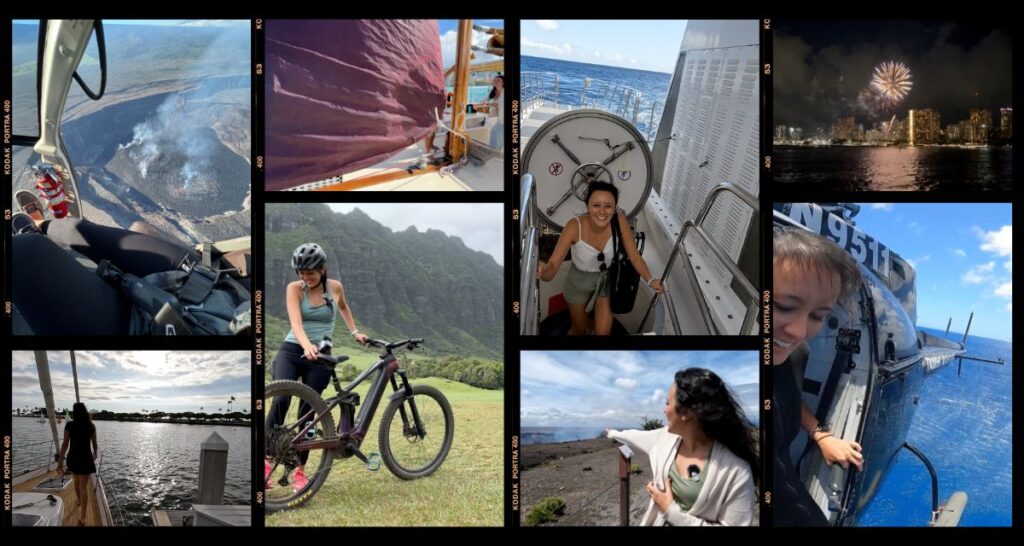 In this article, we share 7 unforgettable Hawaii experiences that you can have on the island of Oahu.
Disclosure: This post may contain affiliate links, meaning if you decide to make a purchase through my links I may earn a commission at no additional cost to you. See my disclosure for more info.
From a helicopter jump to a submarine ride, these experiences will make your trip to Hawaii one to remember.
#1: Helicopter Jump
The helicopter jump is part of Trident Adventures and is an experience like no other. You get on a doors-off flight from the heliport at the airport and fly over the Waikiki skyline. You then jump out of the helicopter anywhere between 20 to 60 feet and then go scuba diving.
Over the past 10 years, I have been fortunate to be able to do about a dozen helicopter rides through training as a concierge – and this helicopter jump was absolutely PHENOMENAL!Watch FULL YouTube video here:
Watch Full Video Here:
#2: Electric Bike at Kualoa Ranch
Kualoa Ranch, also known as Jurassic Valley, is a 4,000 acre private Nature Reserve that is known for its Hollywood movie sets.
The electric bike tour is a two-hour tour that goes into "Jurassic Valley" and covers a lot of the same sets and sites as the ATV tour.
Watch Full Video Here:
#3: Submarine Ride
The submarine ride is located at the Hilton Hawaiian Village in Waikiki and is the largest passenger submarine in the world. You go underwater and see sunken ships, sunken planes, fish, and turtles.
The submarine is a great option for those who want to see marine life but do not want to get in the water or snorkel. I was able to take a good friend of mine and my friend's 4-year-old son. He absolutely loved it!
Watch Full Video Here:
#4: See an ACTIVE Volcano
If you want to see an active volcano, you will have to island hop to the Big Island. There are two main airlines that will fly there: Hawaiian Airlines and Southwest Airlines.
You can do a trip to the Big Island on a one-day flyover on your own (Flight + Rental Car) or you can do a guided tour (Flight + Guided Tour + Helicopter) originating from Oahu.
Watch Full Video Here:
#5: Morning Cultural Sail
The morning cultural sail is one of the most unique experiences on the island of Oahu. You are on a traditional Polynesian double-hull sailing canoe and the boat IS the classroom. The tour is limited to just six people and some of the proceeds from the tickets goes back towards funding community outreach for students of native Hawaiian descent.
Watch Full Video Here:
#6: Book a Luxury Private Yacht
You can book a luxury private yacht for a snorkel cruise, dinner cruise, or sunset sail. You can also book smaller boats if you want to go to specific areas. One of my favorite places on the south shore to snorkel is Turtle Canyon – a reef formation a few minutes offshore where the Hawaiian green sea turtles get their shells cleaned by the fish. You can take a private yacht out to Turtle Canyon and snorkel there without anybody else except your family/group.
Watch Full Video Here:
#7: Catch the Friday Night Fireworks Show
The Hilton Hawaiian Village shoots off fireworks every Friday at 8pm (winter season: 7:45pm). You can catch the show on land or on the water. One of my favorite ways to watch the fireworks is on the Hilton Hawaiian Village's own catamaran cruise. The boat stays out just a little bit longer past 8pm to watch the fireworks show and then heads back into the port.
Watch Full Video Here:
---
OAHU
These 7 unforgettable Hawaii experiences will make your trip to Hawaii one to remember. From a helicopter jump to a submarine ride, these experiences will give you a unique perspective of the island of Oahu. So what are you waiting for? Book your trip to Hawaii today and start planning your unforgettable Hawaii experience!
Yes to Hawaii is an affiliate partner with Hawaii Activities. If you purchase a tour/activity with the links that we provide, we will receive a small commission — at no additional cost to you! We love sharing what each tour is like so you can choose the best tours/activities for you and your family. We love helping take the guesswork out of your Hawaii trip! Booking the tour through our links helps support us bring you free Hawaii and travel content every single week. Thank YOU!
---
Type:
Air
|
Culture
|
Itinerary Ideas
|
Land
|
Sea
Activity:
Adventure
|
Guided Land Tours
|
Helicopter
|
Private Yacht Charters
|
Sailing
|
Unique Experience