Atlantis SUBMARINE ride | 100ft underwater
Did you know that less than 1% of people have been 100ft underwater? And even less have been in a submarine. Our trip was so much fun! We saw TONS of turtles, fish and sunken ships as well as sunken planes.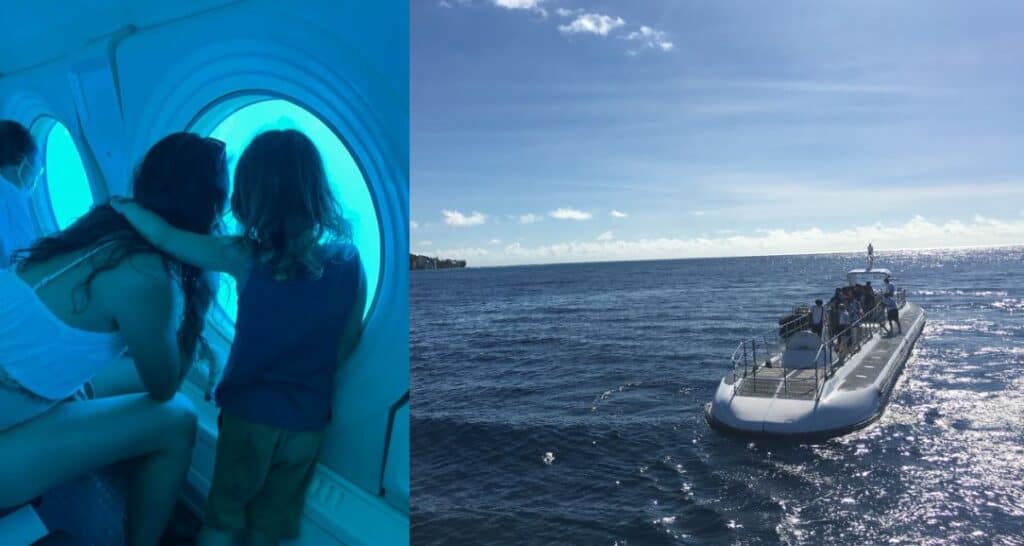 "Can we go in a SUBMARINE?"
One of my best friends' adorable 4-year-old asked me if we could go on a submarine. And, of course, I said yes!
Disclosure: This post may contain affiliate links, meaning if you decide to make a purchase through my links I may earn a commission at no additional cost to you. See my disclosure for more info.
Adventure At A Glance
Duration:
1.5 hours (45-min submarine, shuttle boat each way)
Starting Point:
Port Hilton | Waikiki | OAHU
Group size:
64-passengers (Premium submarine)
What's Provided:
2 boat rides (1st is shuttle boat to submarine drop zone, 2nd is actual submarine)
What to Bring:
Light jacket if you get cold easily (submarine is fully air-conditioned)
Our Experience:
I headed out to the ATLANTIS SUBMARINE with my good friend and her 4-year-old son. He was absolutely ecstatic and so pumped we were going on the submarine ride.
Watch YouTube video
Check out this YouTube video on our full trip
This submarine is the world's LARGEST passenger submarine! 65ft length x 13ft beam (20m x 4m). Premium: 64-passengers.
We were on the last submarine ride of the day: 2:00pm. After we checked in, we got our submarine boarding pass and headed down the PORT HILTON pier.
When we got to the shuttle boat (the one that takes you from the shore to the submarine drop zone), the kiddo happily gave our submarine boarding passes to the crew.
It's so wild to see the submarine surface and see the Waikiki skyline + Diamond Head volcanic crater.
Know Before You Go:
Check-in Time? 30 minutes before
Bathrooms?
Shuttle Boat: Yes
Submarine: No
Accessibility | How do you board the boat? Each passenger must be at least 36″ tall and be able to climb down the submarine ladder 100% unassisted
How to Get There
You'll start at the HILTON HAWAIIAN VILLAGE (2005 Kalia Road, Honolulu, HI 96815) — not to be confused with the Hilton Waikiki which is on Kuhio Ave.
The actual ticket office is located BEACHFRONT of Ali'i tower, right beside the TROPICS BAR AND GRILL (2005 Kalia Rd, Honolulu, HI 96815) — not to be confused with "Tropics Restaurant & Craft House" (which is located on Ala Moana Blvd).
Driving FAQ
Parking is available at the Hilton Hawaiian Village. We offer a discounted validation chaser card for $4 that is valid for 4 hours from the time you park your vehicle. This validation chaser card is for the self-parking garage only. We do not offer validation for valet. Normal parking fees are $15 per hour for the first hour and $10 per hour after.

TAXI, UBER/LYFT or DROP-OFF?
If you are getting dropped off, the drop off location is:
150 Paoa Pl. Honolulu, HI 96815

NOTE: This is a drop off location therefore there is no parking at this address and is a dead end road. This will get you as close to the check-in kiosk as possible while avoiding having to navigate the Hilton Hawaiian Village.
Check-in Process
From the ATLANTIS kiosk Guests must check-in at the Hilton Hawaiian Village (2005 Kalia Rd. Honolulu HI, 96815) Ticket Office located at the beach front of Alii tower, next to Tropics Bar and Grill 30 minutes prior to their scheduled submarine time.
What to Expect
Your tour will involve two boats, a shuttle boat to take you to the submarine, and the submarine itself. The submarine portion will be 45-50 minutes long, and the total duration will be one hour and 30 minutes.
Example:
Check-in: 12:30pm
Submarine: 1:00pm
Return to shore: Approximately 2:30pm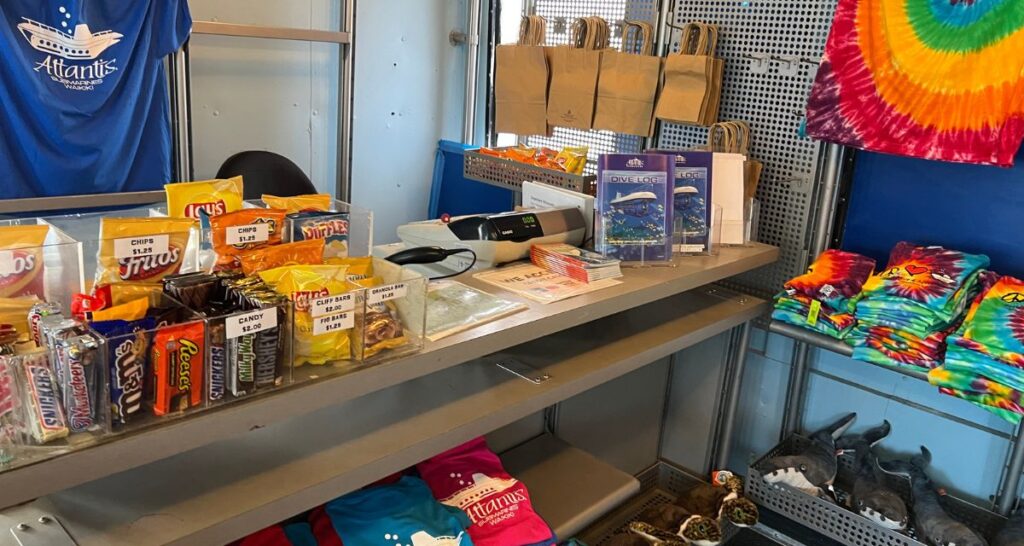 The shuttle boat is actually pretty big! The bottom level had a small shop for snacks/drinks and a bathroom. The top level was open air. We headed right to the top level to get some fresh air and the view of the Waikiki skyline.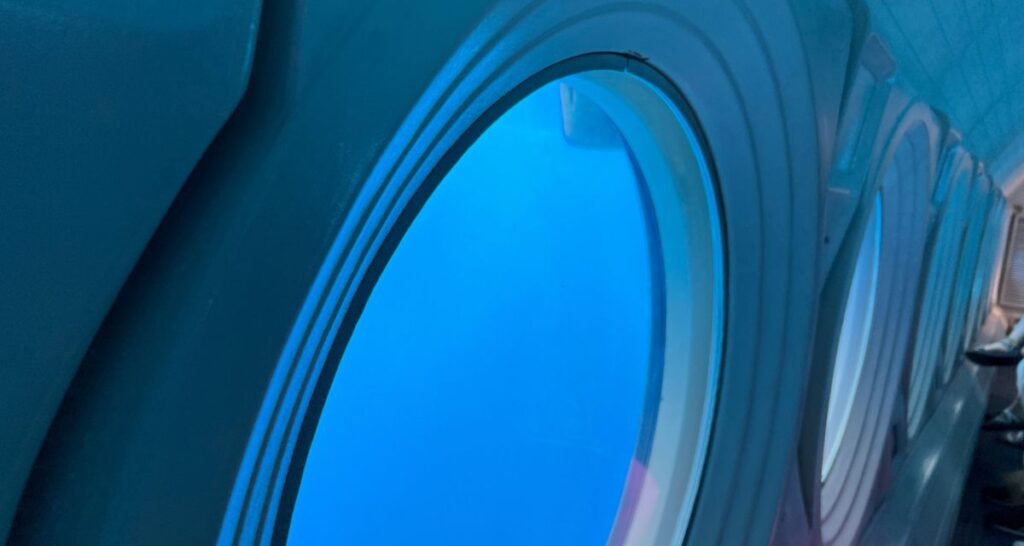 For those who may get motion sickness, keep in mind that the SUBMARINE itself is air-conditioned and very steady. However, the SHUTTLE BOAT that takes you from the shoreline to the submarine drop zone is not. If you are prone to motion sickness, I would recommend taking your ginger pills, tablets, or wearing the seabands with plenty of time.

And as you can see, the submarine is pretty SPACIOUS too!

The SHUTTLE BOAT is the last bathroom before getting to the submarine. And, on the submarine ride (about 45-minutes), there are NO BATHROOMS. This is important if you're traveling with little ones or if you
Options: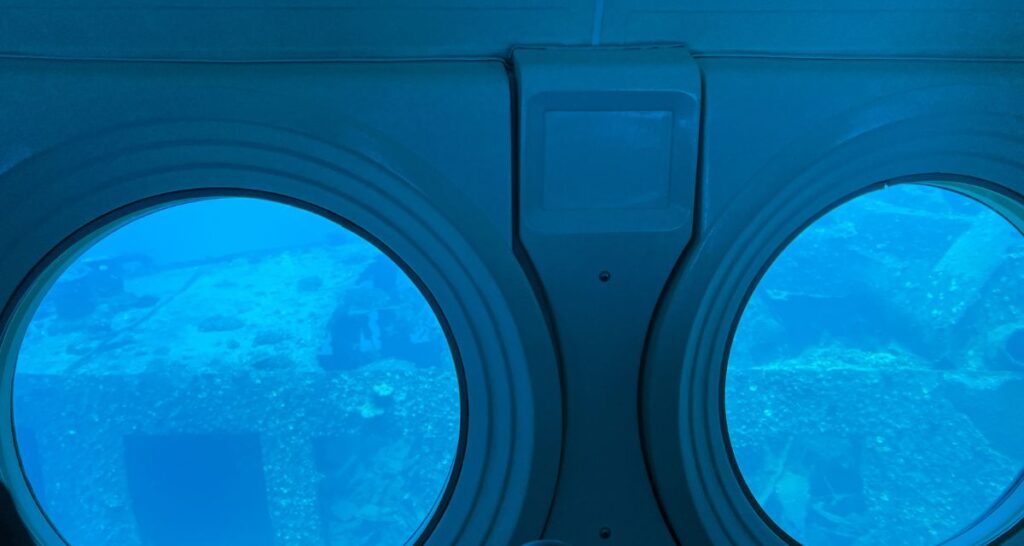 This submarine ride is also available two other Hawaiian islands:
The Review
Over the years living in Waikiki, I've gone on the submarine ride two other times. This was my 3rd time (yes 3rd!) on the submarine.
The day we went was one of the most clearest days I have ever seen! Keep in mind, visibility varies with ocean conditions.
(And my friend's 4-year old LOVED this submarine tour! I am now the coolest Auntie of all time. 10 out of 10 would recommend.)