Waikiki Marine Sports
Are you looking for a fun and active activity to do in Oahu that is only a few miles from Waikiki? SUP, Kayak, Snorkel AND MORE!
This boat activity is about three hours long and you get a choice of a lot of different activities.
Disclosure: This post may contain affiliate links, meaning if you decide to make a purchase through my links I may earn a commission at no additional cost to you. See my disclosure for more info.
Adventure At A Glance
Starting Point:
Kewalo Basin Harbor | OAHU
What's Provided:
Snorkeling, water slide, water trampoline, kayaks, and standup paddle boards
What to Bring:
Swimsuit, Towel, Change of clothes
Our Experience:
Watch YouTube video
Check out this YouTube video on our full trip
This boat activity is about three hours long and you get a choice of a lot of different activities. You can snorkel, kayak, stand up paddleboard, trampoline, water slides, and you can even jump off the boat! All of these activities are included in the same price. You also get water and snacks, so make sure to eat something light before you go.
Options
The boat goes out 2x a day (9am-12pm, 1pm-4pm)
Check-in: 30 minutes prior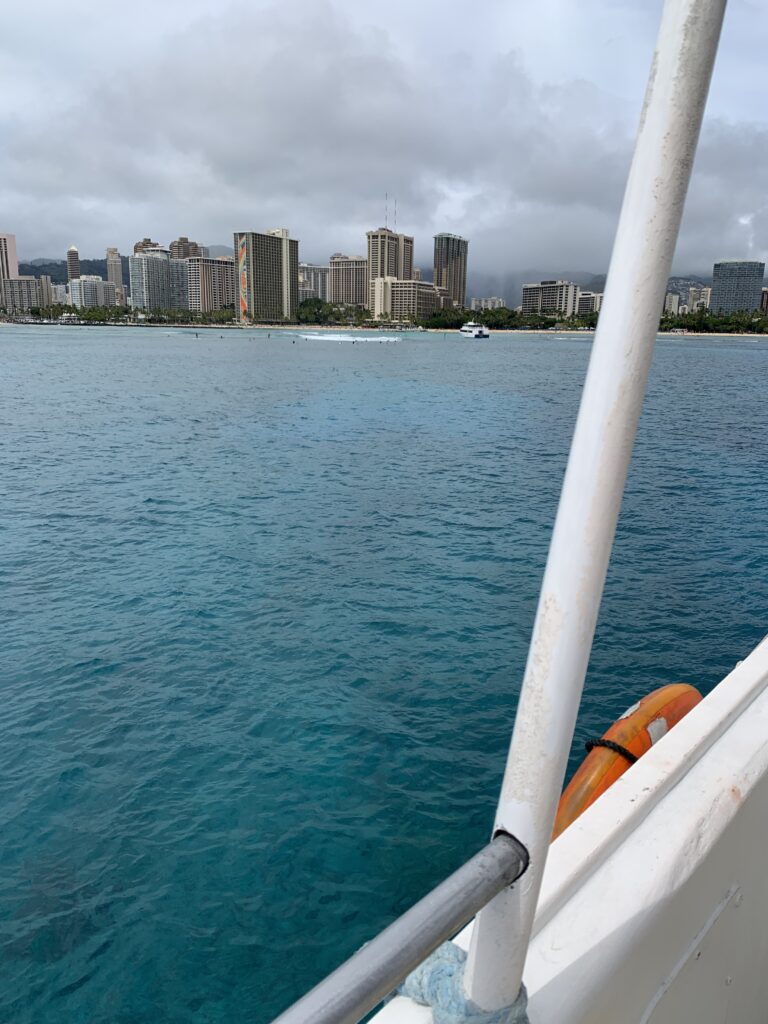 For the 9am-12pm boat, we got to the harbor around 8:30 to check in. The boat left at 9am and it takes about 20-30 minutes to get to the point where the boat is going to moor up. You're out on the water for about two hours and then it's another 20-30 minute ride back to the harbor.
AM vs. PM Cruise
AM CRUISE (9am-12pm)
If you're looking to snorkel, visibility is typically better in the morning and it's a lot calmer. If you're prone to motion sickness, I would recommend the 9am boat. On the day that I went, it was overcast, which was actually for the best. We didn't have to wear that much sunscreen and overall we had a great time.
PM CRUISE (1pm-4pm)
If you're looking for a day out in the sun, the afternoon cruise might be better for you. Just make sure to wear sunscreen! The sun here in Hawaii is very fierce, so use proper sunscreen and make sure that it is reef safe as well.
How to Get There
At the time of this filming, this company does not offer any transportation to/from the cruise. However, there are plenty of ways to get to the harbor.
Taxi, Uber/Lyft
Drive out – Parking is very limited at the harbor, but it is only one dollar per hour. You can pay by card or by an app.
Biki (rideshare bicycles – There is also a Biki station just beside the harbor, and another one over at Whole Foods, which is only about a block or two away.
Moped (from Waikiki) – If you have moped rentals, there is a little bit of parking which people use for mopeds.
What to Pack
Swimsuit & Towels
Wear what you normally wear to the beach and have your swimsuit on underneath your clothes. That way, you can just jump out into the water. There is a restroom on board, but it might be easier to just have your swimsuit on underneath your clothes.
Sunscreen
Reef-safe sunscreen
Dry Bag
My personal favorite is the 25 liter bag. It's padded, so it's super comfortable. It also has a chest strap, which makes it way more comfortable if you're smaller. It doesn't have any zippers, so you just roll it up and clip it. It also has clips on both sides, which I use to clip my Iron Flask.
The Review
Overall, this activity was super fun. It's a little chaotic, with lots of people and activities going on, but in a fun way. If you know what you're getting yourself into, it's a nice way to spend a couple of hours on the water.
I personally prefer the 9am boat ride a lot better. I didn't see any turtles or anything when I was snorkeling, but I did see quite a bit of fish, which was really fun. I would say this is more of an activity-based tour as opposed to a strictly snorkeling tour.
Yes to Hawaii is an affiliate partner with Hawaii Activities. If you purchase a tour/activity with the links that we provide, we will receive a small commission – at no additional cost to you! We love sharing what each tour is like so you can choose the best tours/activities for you and your family. We love helping take the guesswork out of your Hawaii trip! Booking the tour through our links helps support us bring you free Hawaii and travel content every single week. Thank YOU!