PCK Nautical private yacht
In this article, we will be exploring the experience of taking a private charter to Turtle Canyon in Oahu, Hawaii.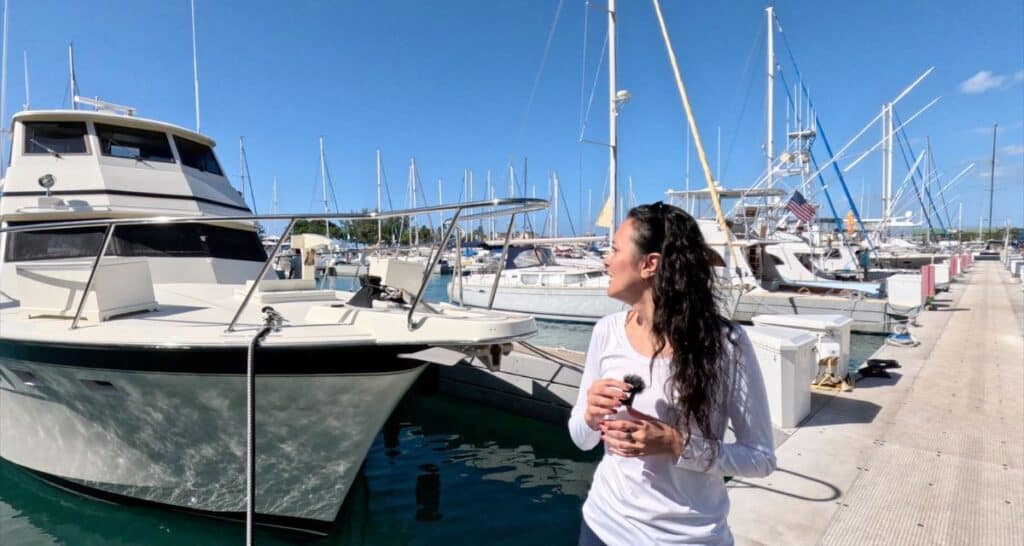 We had the opportunity to go on a 60-foot yacht called PCK Nautical / Hondo.
Disclosure: This post may contain affiliate links, meaning if you decide to make a purchase through my links I may earn a commission at no additional cost to you. See my disclosure for more info.
Adventure At A Glance
Starting Point:
Kewalo Basin Harbor | OAHU
Group size:
Private Charter, Maximum: 6-guests
What's Provided:
Charter fee / Non-alcoholic drinks [BYOB] / Snacks
What to Bring:
Swimsuit, towel, change of clothes
Our Experience:
Watch YouTube video
Check out this YouTube video on our full trip
Exploring the Boat
PCK Nautical / Hondo is a spacious 60-footer that can accommodate up to six guests, making it perfect for small families, couples, or those seeking personalized service. As we stepped inside the boat, we were greeted by a full cabin space with comfortable seating and a TV. For those who wish to bring their own beverages, there is a full refrigerator available on board.
The boat departs from Kewalo Basin Harbor, specifically Pier B.
Distance from Waikiki: 10-15 minute drive
The harbor offers stunning ocean views, setting the stage for an unforgettable adventure.
Heading to Diamond Head
Once we set sail, we made our way to the top deck of the boat, where we found even more seating and a spacious area to relax and enjoy the ocean breeze. The journey from Kewalo Basin Harbor to Diamond Head took us along the beautiful coastline, offering breathtaking views of the Waikiki skyline and the iconic Diamond Head crater. The boat provided ample space for everyone to move around and take in the stunning scenery.
Snorkeling at Turtle Canyon
One of the highlights of our private charter was the opportunity to go snorkeling. The crystal-clear turquoise waters beckoned us to dive in and explore the vibrant marine life below.
A Pleasant Surprise: Appetizers and Music
During our cruise, we were pleasantly surprised to be served delicious appetizers. This unexpected treat added to the experience. Additionally, one of the crew members happened to be a talented musician who serenaded us with beautiful music.
It created a magical atmosphere, especially when we spotted whales in the distance. The combination of live music, tasty food, and the natural wonders of the ocean made for an unforgettable day.
Dolphin Pods
As we continued our journey, we were in for another treat. We spotted dolphin pods swimming near the boat, and they playfully interacted with us, creating a truly magical experience. The dolphins swam back and forth around the boat, giving us the opportunity to witness their playful behavior up close.
Jumping off the boat!
Of course, we couldn't resist taking the opportunity to jump off the boat and into the inviting waters. The combination of the stunning surroundings, the friendly dolphins, and the refreshing swim made for an unforgettable experience.
The Review
Our private charter to Turtle Canyon with PCK Nautical / Hondo was an incredible adventure from start to finish. The spacious boat, the breathtaking views, the snorkeling, the delicious appetizers, the live music, and the playful dolphin pods all contributed to a day filled with joy and wonder.
If you're looking for a unique and personalized experience in Oahu, we highly recommend considering a private charter with PCK Nautical / Hondo. It's the perfect way to explore the beauty of the island and create memories that will last a lifetime.
If you enjoyed this article and found it helpful, please give it a thumbs up and consider subscribing to our channel for more Hawaii videos. And if there are any other Hawaii topics you'd like us to cover, please let us know in the comments below.
What to Pack
DRY BAG
The number one thing that I would highly recommend that you bring is some sort of waterproof bag. People are getting on and off the boat, they're wet, and water is dripping from them. If you have something valuable that you don't want to get wet, such as any camera gear or cell phones, it is an excellent idea to get a waterproof bag.
My favorite waterproof bag is a 25 liter in mint green. It's padded, has clips to make it comfortable, and it's completely waterproof. It's also big enough to fit a towel, cell phone, hat, and whatever else you need. It also has a clip section to clip on your sandals, flip-flops, or slippers, so they don't get misplaced. There's an outside zipper for you to put more things, but this is not waterproof. On the inside of the bag, there's an inside pocket where you can put your wallet and cell phone.
Size: 25L, Color: mint green
When I'm doing underwater shots for snorkeling, I'll use a red filter to grab more colors. Although the GoPro 10 is waterproof, I like using the underwater housing (with or without the red filters) to keep it clear of any saltwater. If you opt to use the GoPro brand red filter, you'll have to use the underwater housing "shell" to attach it.
Yes to Hawaii is an affiliate partner with Hawaii Activities. If you purchase a tour/activity with the links that we provide, we will receive a small commission – at no additional cost to you! We love sharing what each tour is like so you can choose the best tours/activities for you and your family. We love helping take the guesswork out of your Hawaii trip! Booking the tour through our links helps support us bring you free Hawaii and travel content every single week. Thank YOU! 
Activity:
Private Yacht Charters
|
Sailing
|
Snorkeling