North Shore Zipline Climb Works
Have you ever wanted to experience the thrill of ziplining? On the North Shore of Oahu, you can do just that at ClimbWorks Keana Farms.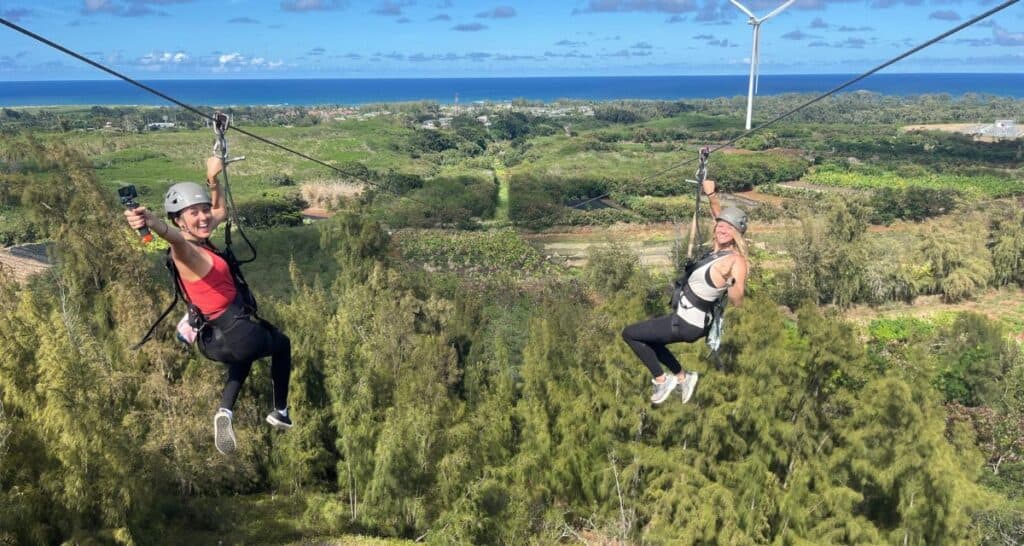 In this article, we'll check out what to expect, what to wear and pack, how to get there, and a review.
Disclosure: This post may contain affiliate links, meaning if you decide to make a purchase through my links I may earn a commission at no additional cost to you. See my disclosure for more info.
Adventure At A Glance
Starting Point:
Keana Farms | North Shore | OAHU
What's Provided:
8 ziplines, 2 rappels, 3 sky bridges, and an ATV adventure to the ridgetop
What to Bring:
Closed-toed sheos
Our Experience:
Watch YouTube video
Check out this YouTube video on our full trip
What to Expect
ClimbWorks is home to Oahu's tallest and longest zipline. The tour runs about three hours and is guided. You'll start off in an ATV with your guide to head up to the ridgetop, about a 10 minute drive. On the way up, your guide will point out some highlights.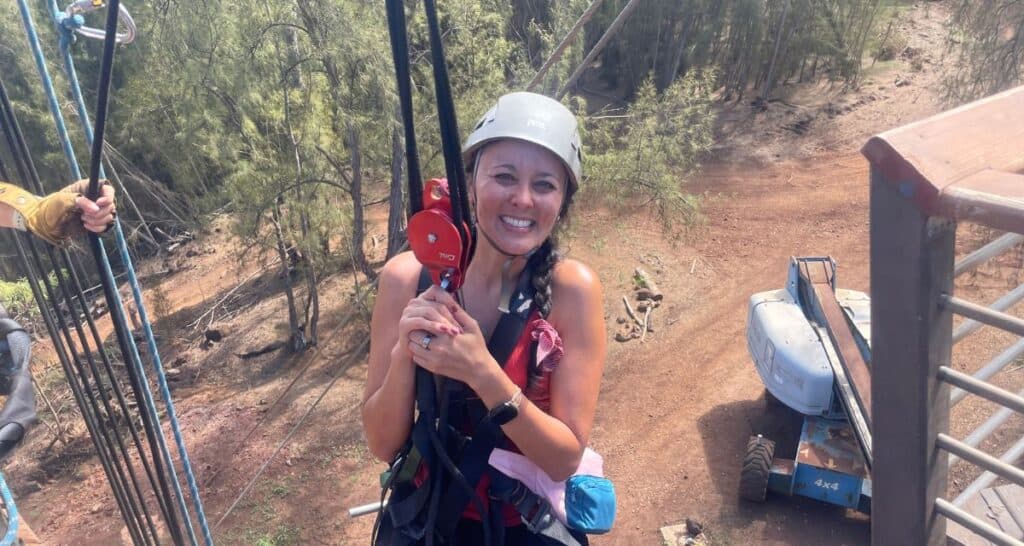 Once you get to the top, you'll start your first zipline. You'll be ziplining above a working agricultural farm, so you won't be able to carry any backpacks or bags. They do have small lockers to lock up your valuables. If you need medication, make sure to let your guide know ahead of time. If you're going to bring a cell phone or GoPro to take photos, make sure it has some sort of wrist strap.
There are eight dual line zips, which means you're going to be zipping side by side two at a time. You start small at about 500 feet of zipline and it gradually builds up to a half of a mile. In between the platforms, you'll be doing some short hikes and there are stairs to get to some of the platforms. There are also some sky bridges.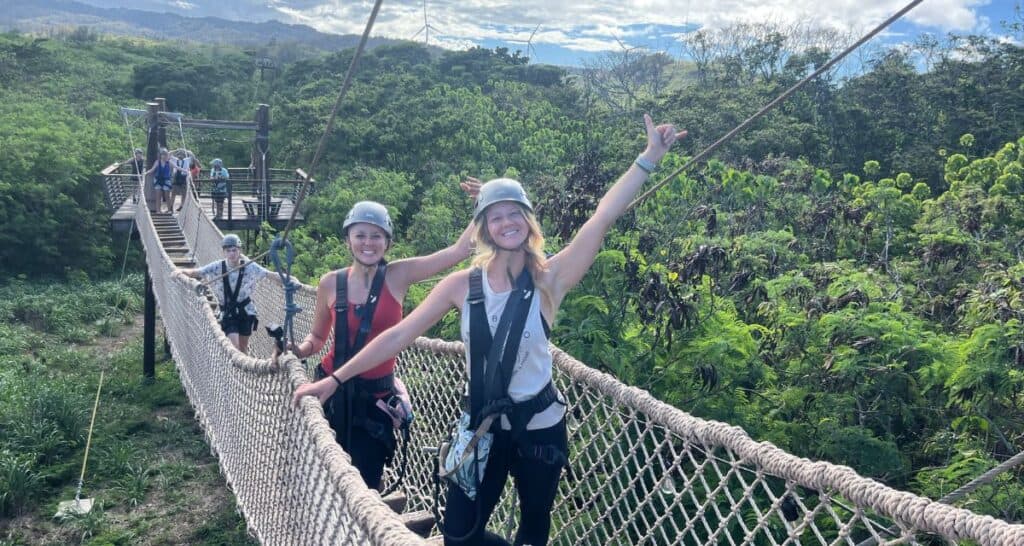 Throughout the zipline tour, your guide will give you bits of Hawaiian history. You'll also get to try some of the things they grew on the farm. On the day we went, we tried macadamia nuts.
Options
There are morning and afternoon ziplines. The morning ones are great if you want to zipline without there being too much sun. You'll also have the entire afternoon free if you want to head over to the North Shore town of Haleiwa. The afternoon zip lines work really well if you want to sleep in a little bit or if you're pairing it with another activity.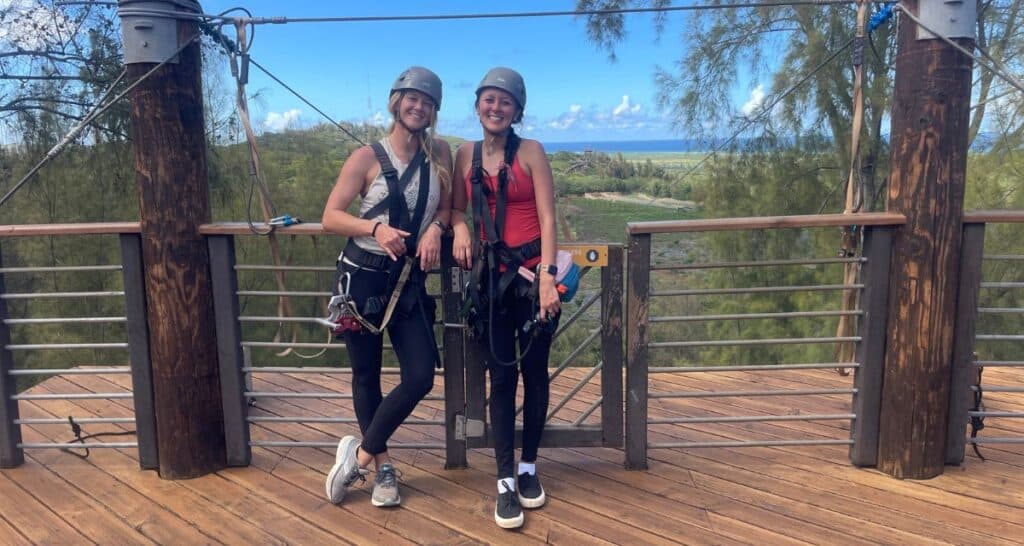 What to Wear or Pack
Shoes are required for the zipline, so make sure to wear or pack them. As for what to wear, I wore my regular leggings and a tank top. I unfortunately did forget to bring my running shoes as I was leaving my apartment, but they do have rentals for only $5.00.
I would also recommend wearing or bringing sunglasses. If you do choose to do the afternoon zip line, make sure to wear plenty of sunscreen and definitely reapply before you go on the course.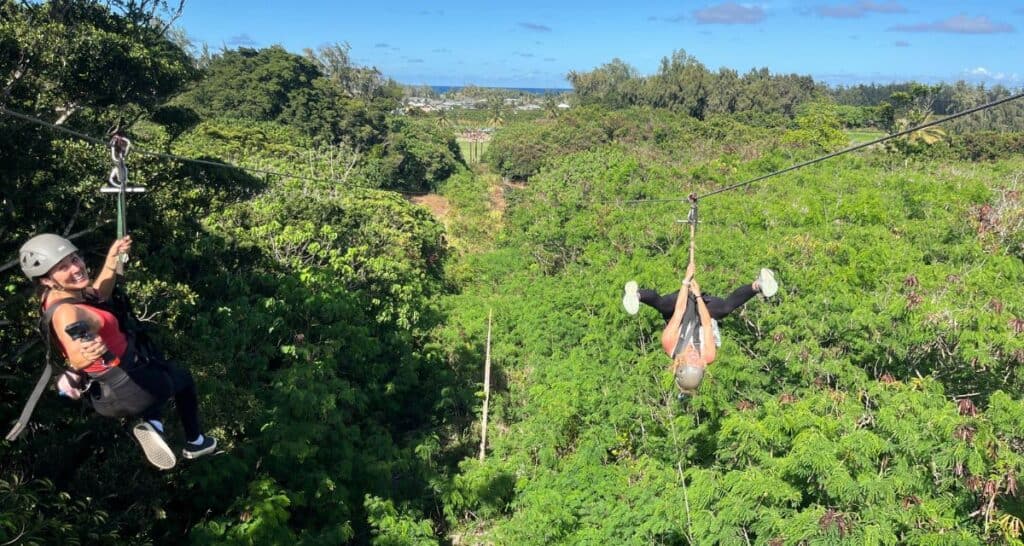 How to Get There
At the time of this filming, ClimbWorks does not currently offer shuttle service. The easiest way to get to ClimbWorks is by rental car.
Distance
• From Turtle Bay Resort: 4.5 miles (about 10-minute drive)
• West Side | Ko Olina: 50 miles
• Waikiki: 40-50 mile (depending on if you cut through the center of the island or go along the east coast from Waikiki)
Without traffic, it should take you about 1 hour 15 minutes to get to ClimbWorks Zipline from Waikiki, but traffic on Oahu can be very unpredictable, especially if there's any accidents or road work.
Review
Overall, I absolutely love this course. There were varying ages on the tour itself. Keep in mind that you're going to be on your feet for about 2-3 hours, so you should only do the course if you're able to comfortably stand for about 3 hours. You should also be able to comfortably walk up a few flights of stairs, because there are going to be a few sets of stairs between the platforms.
There are specific age minimum and weight restrictions.
Conclusion
ClimbWorks Keana Farms is a great way to experience the thrill of ziplining on the North Shore of Oahu. The tour is guided, and you'll get to learn about Hawaiian history and try some of the things they grew on the farm. Make sure to wear or bring the appropriate clothing and shoes, and give yourself plenty of time to get there. I would definitely recommend it!