1 Week in Hawaii | Under $500
Oahu is one of the most affordable of the Hawaiian islands with so may options on things to do. In this article, I share an itinerary of 1 Week in Hawaii for under $500.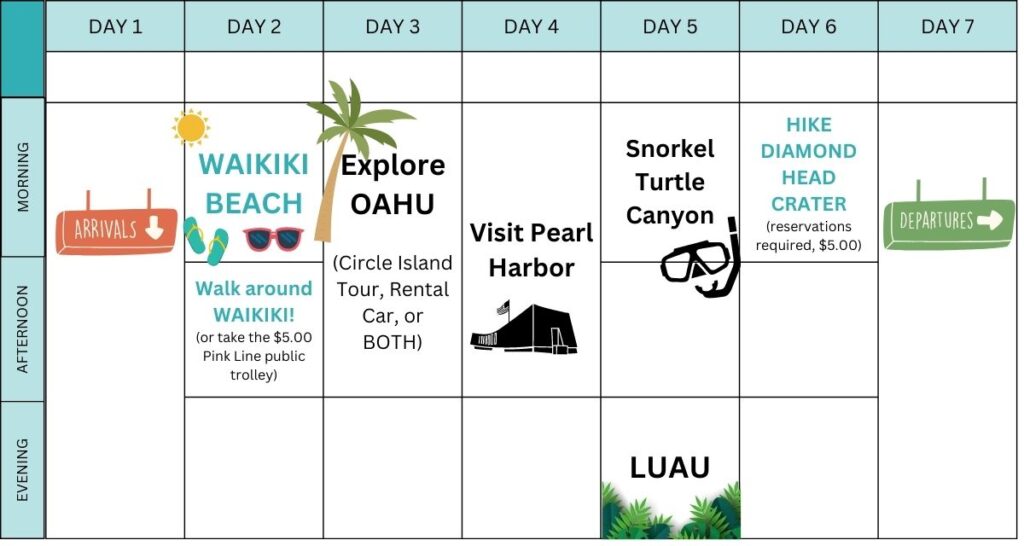 Email me this itinerary!
Get this entire itinerary sent in an email.
• Circle Island Tour • Visit Pearl Harbor •Snorkel Turtle Canyon • Luau •
Itinerary Ideas
Watch YouTube video
Check out this YouTube video
---
Explore OAHU
Sightseeing | Circle Island Tour
Escape the concrete jungle of Waikiki and explore the island of OAHU!
Disclosure: This post may contain affiliate links, meaning if you decide to make a purchase through my links I may earn a commission at no additional cost to you. See my disclosure for more info.
Exploring the stunning island of Oahu is a must! A great way to do this is by taking a Circle Island tour or renting out a car. With the Circle Island tour, you get to see all the incredible sights without having to worry about planning your route. Plus, you'll have an experienced guide pointing out all the local hotspots! Head up to the North Shore fruit stands to grab a snack and enjoy the relaxed vibes.
On the other hand, if you go for the latter, you'll have the freedom to cruise around and uncover hidden gems at your own pace. Whether it's hitting up picturesque beaches or feasting on delicious seafood – an unforgettable Oahu experience awaits! So what are you waiting for? Get ready and come explore Oahu!
Visit Pearl Harbor
History | Visit USS Arizona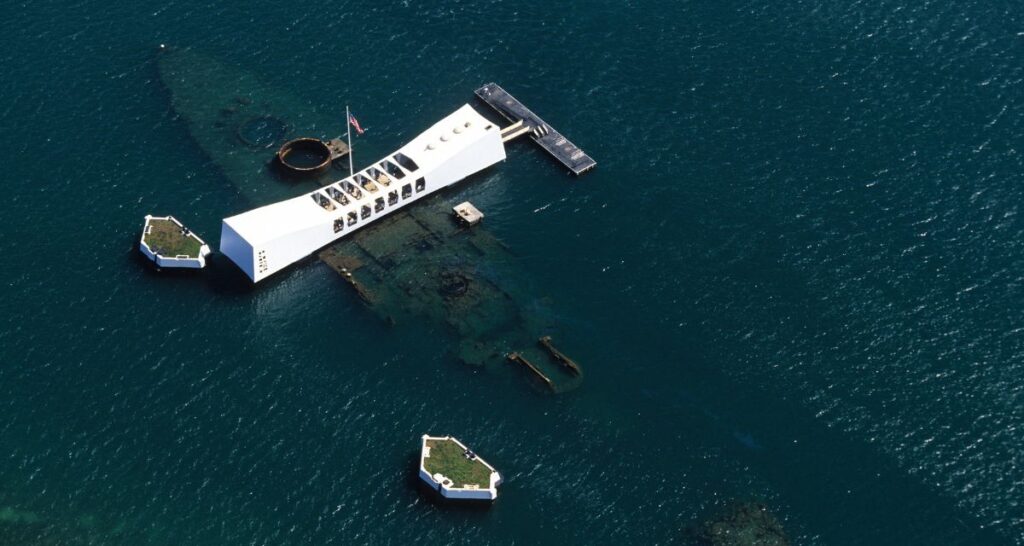 Visiting Pearl Harbor is a must-see when in Oahu. This historical site marks the infamous attack on December 7th, 1941, that drew the US into World War II. As you explore the grounds, you'll be able to take in powerful memorials such as the USS Arizona Memorial, which pays tribute to those who lost their lives during this fateful day.
You can also tour the USS Missouri, where Japan's formal surrender to the United States took place in September 1945. There's no better way to learn about WWII history than by visiting Pearl Harbor.
Snorkel at Turtle Canyon
Sightseeing | Waikiki
Snorkeling at Turtle Canyon is an experience unlike any other. Located just off the coast of Waikiki, this unique underwater area offers unparalleled views of Hawaii's diverse marine life. Turtles, fish, coral and other creatures weave their way around the canyon walls, providing endless opportunities to explore Oahu's vibrant ocean life.
Whether you're a seasoned snorkeler or a first-time explorer, Turtle Canyon offers an unforgettable experience. With its crystal clear waters, diverse wildlife and picturesque views, it's easy to see why Turtle Canyon is one of Hawaii's premier snorkeling spots. So if you're looking to explore Oahu's ocean life, then make sure to add Snorkeling at Turtle Canyon to your list. You won't be disappointed!
Luau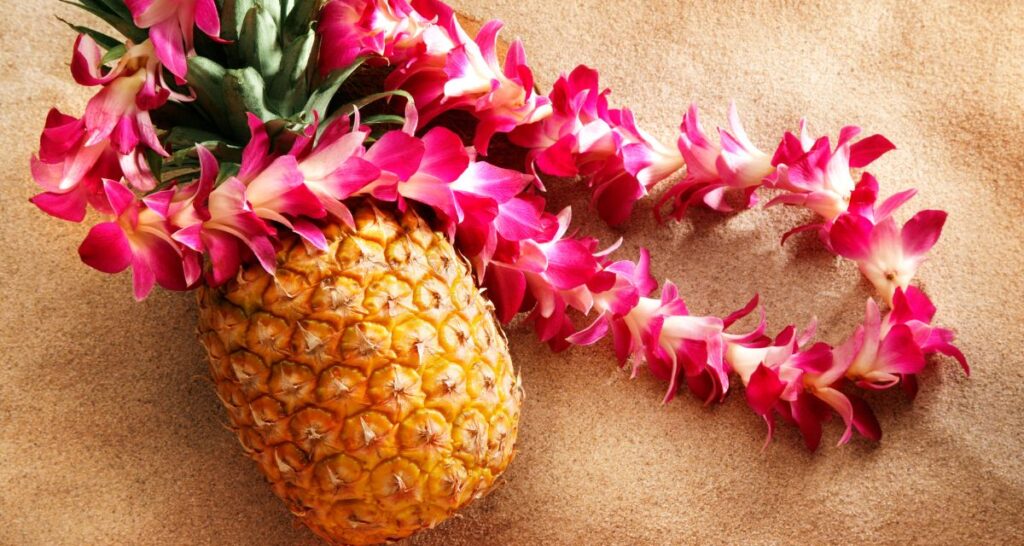 Whether you want to experience some traditional Hawaiian culture or just enjoy a fun night out, attending a luau is always an enjoyable time! A luau is a great way to bring people together and create lasting memories. The two main types of luaus are small group and large group luaus.
A small group luau typically consists of no more than 50-70 people, making it a great option for intimate gatherings with family and friends. If you're looking to have a more personalized experience, this is the perfect choice. You'll get to enjoy all the traditional Hawaiian dishes, participate in fun activities, and take part in classic luau dances while surrounded by your closest loved ones.
On the other hand, a large group luau can be a much more exciting option. This is perfect for celebrations like birthdays and anniversaries or when you just want to have a good time with lots of people. From the food to the music to the various activities, you'll get to enjoy all that a luau has to offer in an atmosphere filled with energy and laughter. Plus, with a larger group, you'll have the opportunity to meet and get to know new people as well!
No matter what type of luau you choose, it's sure to be an unforgettable experience. So if you're looking for a fun way to celebrate or just want an exciting night out, why not give a luau a try?
Email me this itinerary!
Get this entire itinerary sent in an email.
Type:
♥ Our Favorites
|
Culture
|
Itinerary Ideas
|
Land
|
Sea
Activity:
Guided Land Tours
|
Luaus
|
Pearl Harbor
|
Snorkeling