What's better than an acai bowl?
In this post, I go over one of my favorite super cute spots to grab an acai bowl. I grabbed a quick light acai bowl with a friend and it did not disappoint.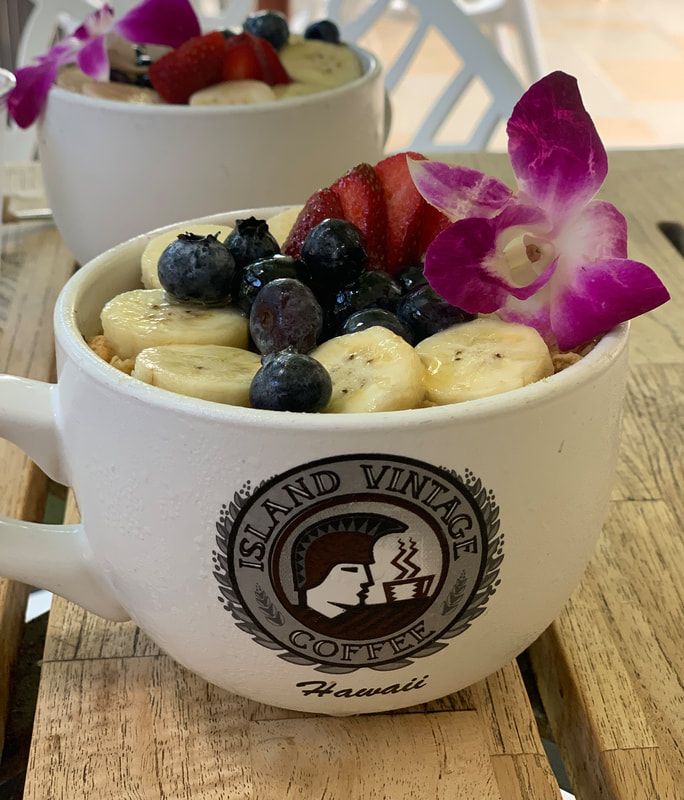 Keep in mind it is a coffee shop with a bigger MENU (link) that also has eggs, breakfast sandwiches, vegan options, salads, and other menu options.
Disclosure: This post may contain affiliate links, meaning if you decide to make a purchase through my links I may earn a commission at no additional cost to you. See my disclosure for more info.
Quick Details:
Island: OAHU
Restaurant: Island Vintage Coffee
Important Info:
Location: Located on the 2nd floor of the ROYAL HAWAIIAN CENTER (Address: 2301 Kalakaua Avenue #C215 Honolulu, HI 96815). It's above the Royal Grove stage area
Hours: 6:00am-10:00pm
Parking?: FREE validated parking for 3 hours and $2 per hour for the next 2 hours with ANY purchase. Like all parking, rates can change. Click HERE to check out the Royal Hawaiian center's most up-to-date parking information.
Phone Number: +1 808.926.5662
Menu: Click HERE.
Reservations?: No reservations, walk-in only. Sometimes there'ss a line but it moves quickly.
There's open-air indoor seating, outside seating and there's even seating along the railing. It's cute. With it's super early 6:00am start, it's perfect for early risers, those suffering from jet lag, or those wanting a full breakfast beyond the ABC Stores grab-and-go snacks.
Lilikoi. The name of a friend's puppy (local kine). And also the Hawaiian word for passion fruit.
Original Acai OR Lilikoi Moana Bowl?
Their ORIGINAL ACAI BOWL 24oz is a classic choice. It has the regular base youd expect: Organic Acai, Tropical Fruits, Banana, Cold-Pressed Apple Juice, Almond Milk. The toppings that are generously put on top are: Strawberry, blueberries, local banana, Big Island organic honey, organic granola.
But wait.
There's another option that may take it up a level: the LILIKOI MOANA BOWL

Hear me out. Yes, it's not the classic acai bowl. But, I personally think it's better. Best for those with a sweet tooth.
So, what exactly is it you ask? Lilikoi is the Hawaiian word for passion fruit. This bowl comes in TWO sizes: 24oz and the smaller 16oz. While the 24oz is great for sharing, I like the smaller 16oz for just me. And the toppings? Same as the acai bowl…BUT you also get papaya and fresh housemade lilikoi honey instead of Big Island organic honey.