Royal Hawaiian Luau
BEST Waikiki Luau. Waikiki, Hawaii. This is hands-own one of my FAVORITE luaus! Over the past 10 years, I've gone to this luau MANY Times.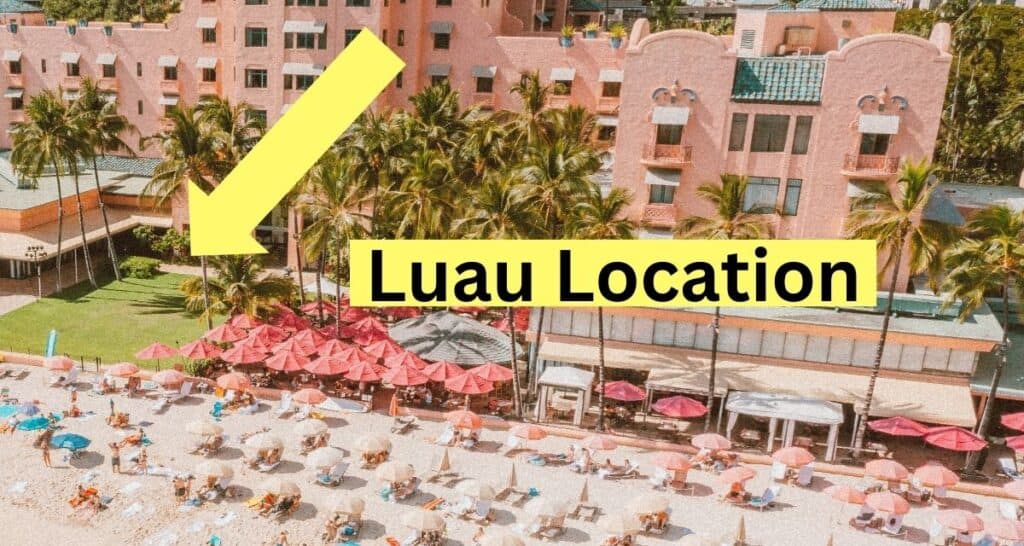 This luau was so much fun! And, I loved that it was nestled right in Waikiki.
Disclosure: This post may contain affiliate links, meaning if you decide to make a purchase through my links I may earn a commission at no additional cost to you. See my disclosure for more info.
Adventure At A Glance
Duration:
5:00pm-8:00pm (3 hours)
Starting Point:
Royal Hawaiian Hotel | OAHU
What's Provided:
Dinner, Show
What to Bring:
Photo ID (21+ years)
Our Experience:
Watch YouTube video
Check out this YouTube video on our full trip
Know Before You Go:
Island: OAHU
Duration: 5:00pm-8:00pm (3 hours)
5:00pm Check in
5:15pm Act I. Welcome to Ancient Hawaii, Activities (45 min)
6:00 Act II. The Royal Feast (1hr)
7:00pm Act III. The Helumoa Story Unfolds, show (50 min)
'Imu Ceremony (Pig Roast): No
Buffet or Table Service: Table service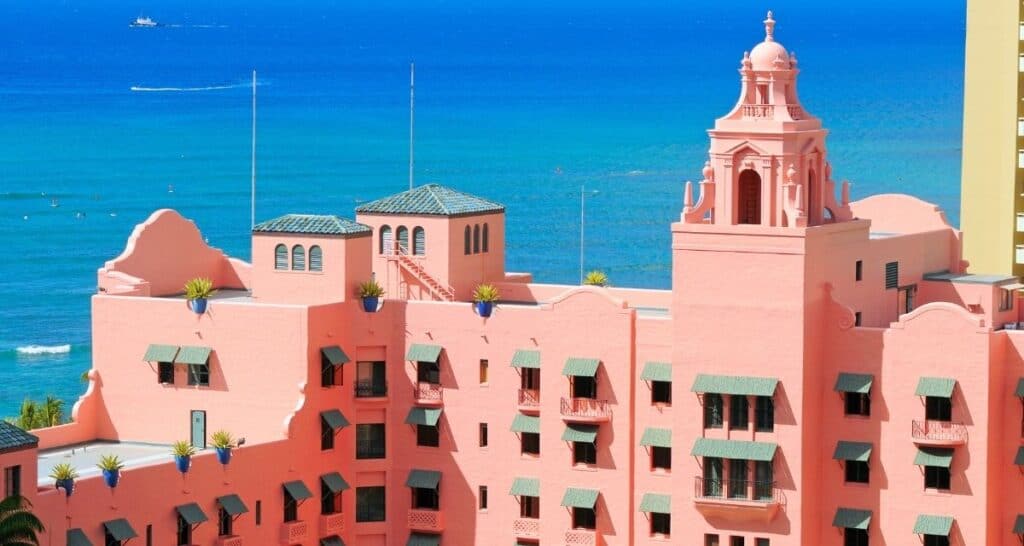 If you're looking for a luau experience in Waikiki, the Royal Hawaiian Luau is the perfect option. Located in the iconic Royal Hawaiian Hotel, this luau offers a unique experience with its signature pink color and oceanfront view. In this article, we'll cover everything you need to know about the Royal Hawaiian Luau, from the menu to the seating and the entertainment.
What to Expect
The Royal Hawaiian Luau offers a unique experience within the oceanfront ROYAL HAWAIIAN HOTEL – known for its signature pink color and oceanfront view. The luau is held twice a week, on Mondays and Thursdays. Check-in is at 5pm. The dinner is served at around 6pm and the show starts at 7pm.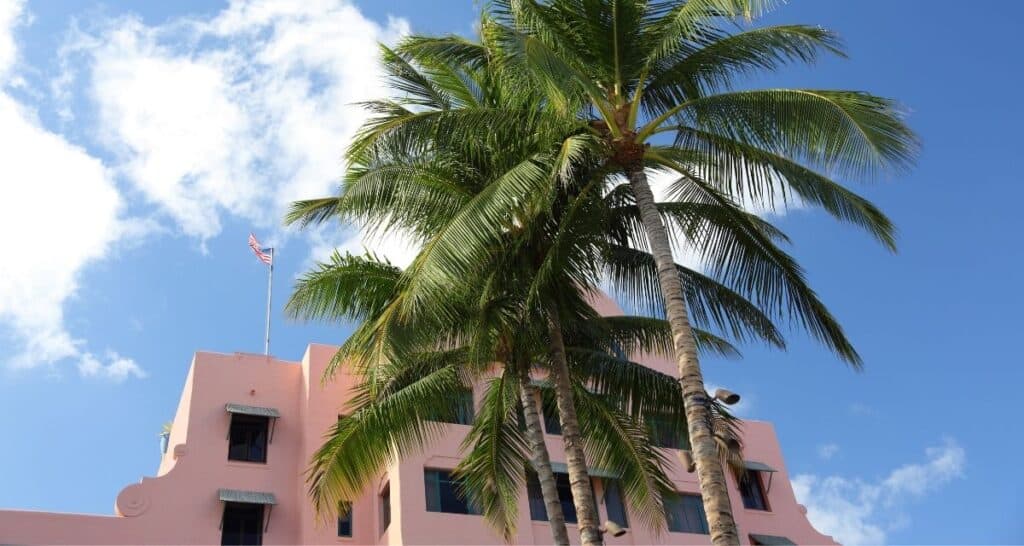 Love this luau!
The dress code is resort casual. It's a little bit dressier which is nice.
The Royal Hawaiian Luau is the perfect option for those looking for a luau experience in Waikiki. With its signature pink color and oceanfront view, the luau offers a unique experience with delicious food and traditional Hawaiian entertainment.
I personally loved it because I liked that it was a bit dressier than other luaus I had been to. The food was delicious. The oceanfront view was gorgeous. Royal Hawaiian hotel is also a 4 star property so it was NICEEEE. The cocktails and mocktails were tasty and had nice fruit garnishes – some luaus I've been to served drinks but the presentation of the drink wasn't as nice. I also liked that we were served with real plates and silverware. Some luaus serve you on paper plates – similar to a backyard style reception with plastic cutlery. The presentation was definitely 5 stars – something I would expect from a luau at the Royal Hawaiian hotel.
If you want to check out the hotel, they also have a cute restaurant right beside the luau called "The Mai Tai Bar" – and it serves, of course, MAI TAIS. Arguably, some of the best (and strongest) mai tais on the island.
Options
The seating is private tables, separated by six feet (NOTE: This was written in December 2021 and may have changed since then), and can accommodate anywhere from two to ten people. Regular seating runs about $225 per person, while the premium seating is an additional $25.
The premium seating is worth it. You'll be in the first 2 rows.
The Menu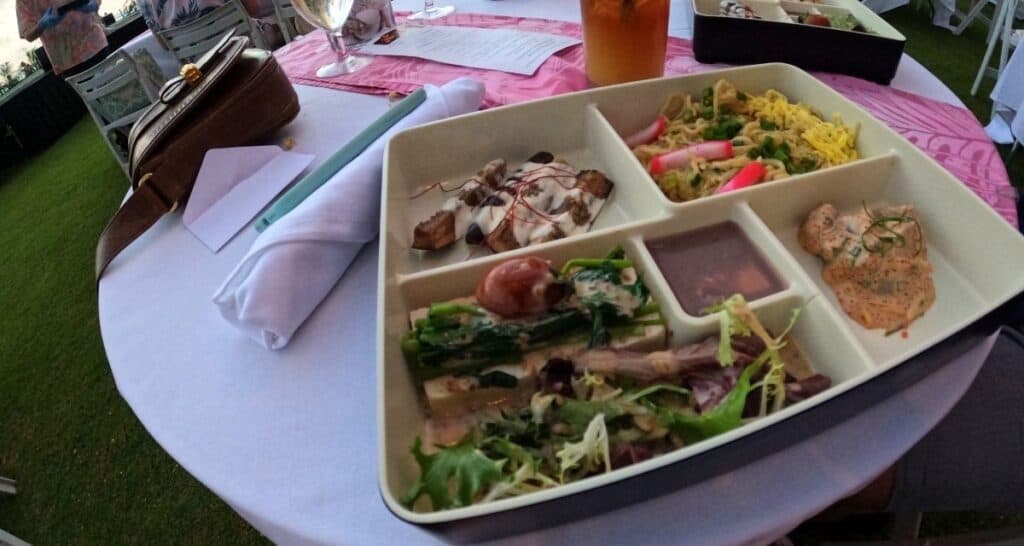 The menu is set and includes a variety of dishes. It's a 3-course meal that you get served at your table (instead of a buffet line)You also get three drink tickets, which can be used for Mai Tais, wine, beer, or non-alcoholic drinks.
NOTE: The menu is subject to change. As of now (February 2, 2023), this is their most updated menu:
First Plate
Poi from the root of the taro plant
Spicy Ahi Poke: Hawaiian salt, sweet soy, sirracha aioli, tobiko
Watercress Salad: Sumida Farm watercress, tofu, sesame dressing, ginger
Roasted Eggplant: Lemon miso dressing, chili threads
Saimin: Ginger scallion sauce, kamaboko, farm egg
Second Plate
Steamed Island Fish: Luau sauce, shaved onion, sesame brittle, pickled chili
Chicken Lau Lau: Chicken steamed with taro leaves
Kimchi Fried Rice: Jasmine rice, kimchi, Portuguese sausage
Hawaiian Smoked Meat: Stir fry smoked pork, pickled onion, oyster sauce
Soy Sake Braised Short Rib: Natural jus, crispy garlic
Dessert
Local Style Haupia Pudding: Dark chocolate layered dobash, cinnamon crumbles, toasted coconut
The show features traditional Hawaiian hula and Aloha throughout the years.
Tips:
When you come in to get seated for the luau, make sure you avoid the left-hand side, as it is close to the restaurant and you can hear people talking and the music from the bar.
If it looks like it's going to rain, try to stay close to the palm trees, as they will provide some protection from the rain.
When we went to the luau, it started to rain near the end of the show. The Royal Hawaiian staff are quick to respond to the rain, and they provide pool towels to keep guests dry.
Yes to Hawaii is an affiliate partner with Hawaii Activities. If you purchase a tour/activity with the links that we provide, we will receive a small commission – at no additional cost to you! We love sharing what each tour is like so you can choose the best tours/activities for you and your family. We love helping take the guesswork out of your Hawaii trip! Booking the tour through our links helps support us bring you free Hawaii and travel content every single week. Thank YOU!