Rock-a-Hula Luau Show
Waikiki, Hawaii. In this article, we check out Rock-a-Hula Luau dinner and show. Rock-a-Hula is located right in the heart of Waikiki at the Royal Hawaiian Shopping Center.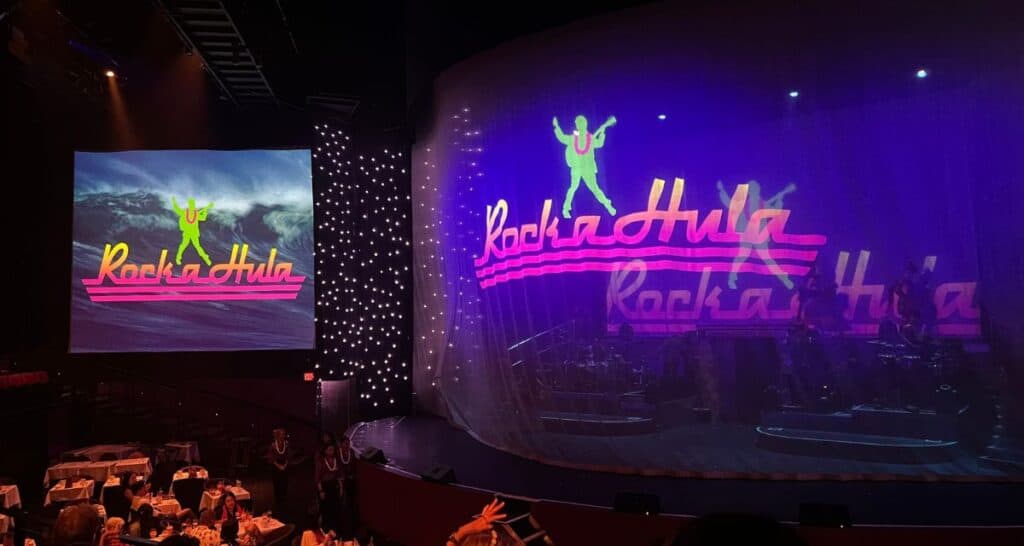 Options: Show-only, Luau & Show, VIP Luau & show
Disclosure: This post may contain affiliate links, meaning if you decide to make a purchase through my links I may earn a commission at no additional cost to you. See my disclosure for more info.
Adventure At A Glance
Duration:
Dinner & Show: 6:00PM – 9:00PM
Starting Point:
Royal Hawaiian Center | OAHU
What's Provided:
Luau Package: Dinner, Show, One (1) Mai Tai
What to Bring:
Photo ID (21+ years)
Our Experience:
Watch YouTube video
Check out this YouTube video on our full trip
Convenient Location
If you're staying in Waikiki, getting to the luau is easy. Rock-a-Hula is located in the Royal Hawaiian Shopping Center (Address: 2201 Kalakaua Ave, Honolulu, HI 96815) on the 4th floor in building B.
After we got to the 4th floor, we headed over to the check-in booth then straight to the luau dining area. Right when you walk in to the dining area, you're greeted with a Mai Tai – they have both the alcoholic and non-alcoholic version.
Luau Schedule
5:30pm Check-in
6:00pm-7:30pm Dinner
7:40pm-8:50pm Rock-A-Hula show
8:50pm-9:00pm Meet & Greet with the cast
The Menu (yum!)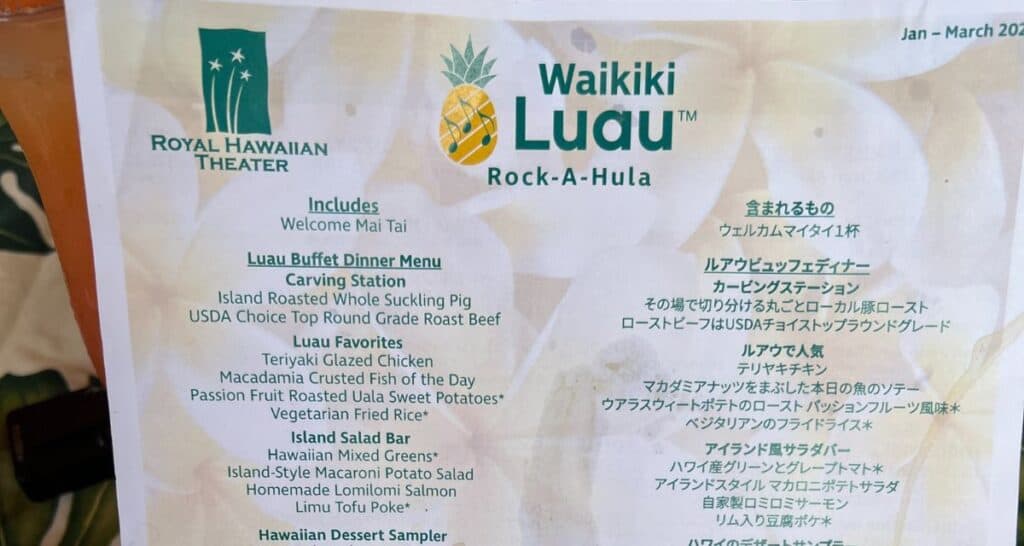 The order that you eat for the buffet is based on the order that you come in at, so if you want to eat soon make sure you get in as close as possible to the check-in time of 5:45pm.
We just made our first pass the buffet line and there's a little bit of everything. The food was tasty as well. I really like that they had vegetarian fried rice instead of the fried rice that has pork mixed in it because I do not eat pork.
The fish was delicious and the chicken was the best. There's a little bit of something for everyone!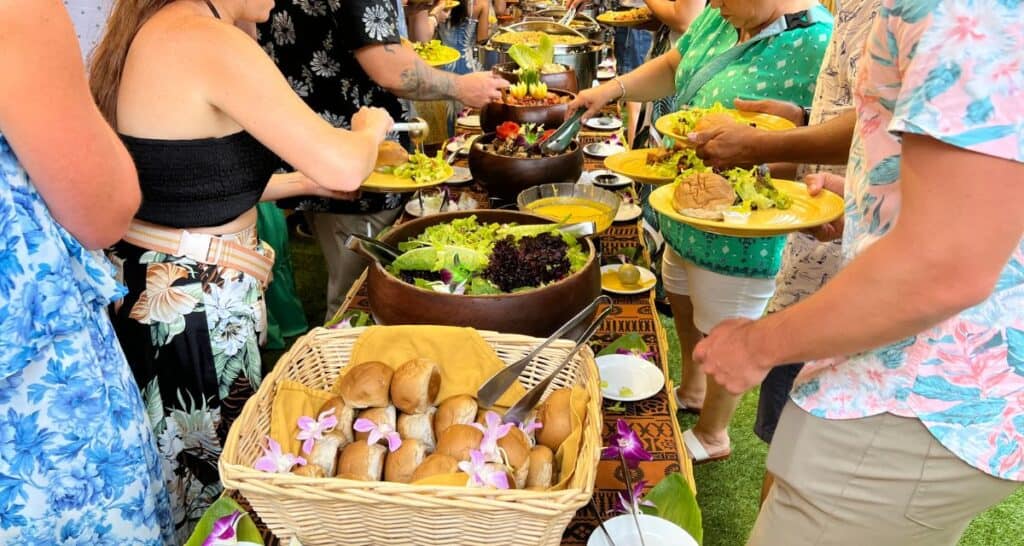 At Your Table
Whole Fresh Maui Gold Sweet Pineapple Served Family Style*
Carving Station
Whole Roasted Luau Pig
Roast Beef and Black Sea Salt
Hot Station (Luau Favorites)
Teriyaki Glazed Chicken
Macadamia Crusted Fish of the Day with Pickled Ginger Beurre Blanc
Passion Fruit Roasted Sweet Potatoes*
Vegetarian Fried Noodles*
Steamed White Rice*
Freshly Baked Poi Rolls by Elvis's Bakery® with Butter.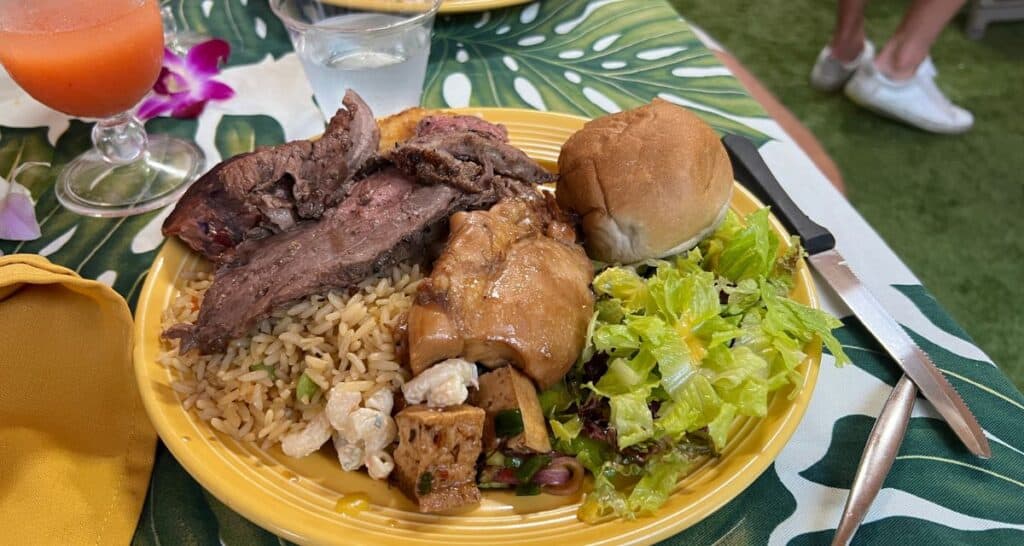 Island Salad Bar
Hawaiian Mixed Greens*
Housemade Papaya, Lilikoi (Passion Fruit) & Sesame Oriental Dressings
Island-Style Macaroni Potato Salad
Limu Tofu Poke*
Lomilomi Salmon
Dessert Sampler
Seasonal Fresh Fruit Platter*
Chocolate Dobash Cake
Coconut Haupia*
Ice Cream Bar
Beverages
Hot Tea
Freshly Brewed Kona Blend Coffee by Hawaiian Paradise Coffee
Alternative Options
Vegan selections are marked with an asterisk *
Grilled Garden Patty (available with 24 hours notice)
Dining (small show, outdoors)
There was a small hula show while we were eating in the outdoor dining area. If you're booking the luau during a winter season month such as December, January, or February, this is probably one of the best indoor/outdoor shows that you can do because it is weather independent.
Weather
This is a great indoor/outdoor activity to do during our rainy season because the outdoor dining area has covered tents. When we went to the show, it started raining around 6:15pm but the rain didn't affect us since the indoor/outdoor dining area is covered by tents.
ROCK-A-HULA SHOW (BIG SHOW, INDOORS)
We're heading out into the show right now. Rock-a-Hula is an hour-long show where you'll have an Elvis impersonator and Michael Jackson impersonators, and a few other performers with hula and Tahitian dancers, as well as a fire-knife dancer. The theater is pretty huge – it holds about 750 guests and it's tiered seating so no matter where you sit you can definitely see the show.
Filming during the actual show itself was not allowed so I caught a tiny bit of the show at the end just to show you guys a little bit of a sneak peek.
The show was a super fun Vegas-style show. It shows Hawaii through the ages starting in the 1920s in a Vegas-style way.
Meet and Greet
After the show, we had the chance to meet and greet with the performers.
Yes to Hawaii is an affiliate partner with Hawaii Activities. If you purchase a tour/activity with the links that we provide, we will receive a small commission – at no additional cost to you! We love sharing what each tour is like so you can choose the best tours/activities for you and your family. We love helping take the guesswork out of your Hawaii trip! Booking the tour through our links helps support us bring you free Hawaii and travel content every single week. Thank YOU!