Rage Room Hawaii
Break'n Anger | OAHU. Have you ever wanted to break something but didn't want to get in trouble? Well, now you can! Hawaii's First and ONLY RAGE ROOM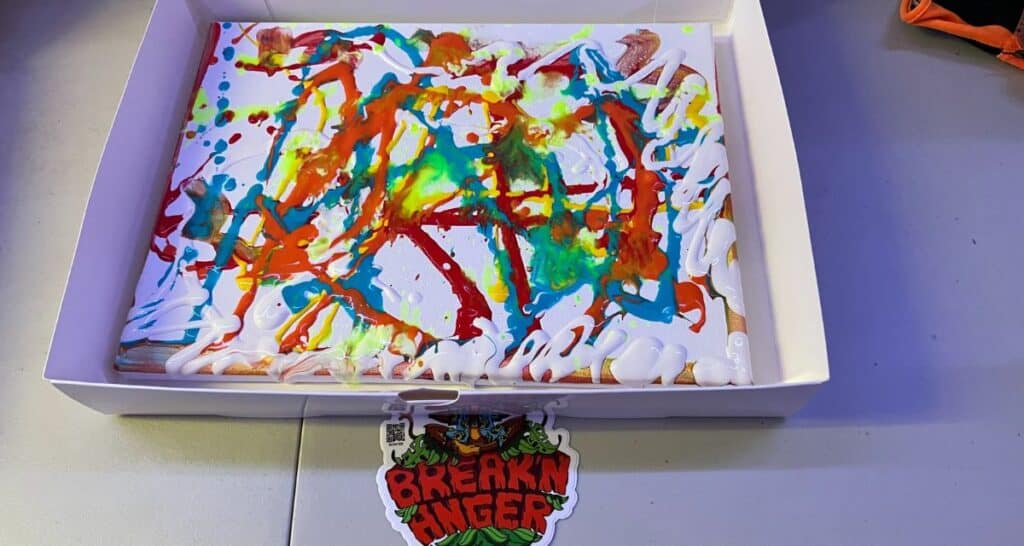 Hawaii's first and only Rage Room, Break'n Anger, is located in Kakaako – only 15 minutes from Waikiki. In this article, we'll go over options, how it works, safety, and an overall review.
Disclosure: This post may contain affiliate links, meaning if you decide to make a purchase through my links I may earn a commission at no additional cost to you. See my disclosure for more info.
Adventure At A Glance
Duration:
Varies (45 min, 90 min, 120 min)
Starting Point:
Break n' Anger | OAHU
What's Provided:
Poncho / Shoe-covering / Hair cover / Paints/Brushes / One (1) 9×12 canvas
What to Bring:
Closed-toed shoes
Our Experience:
Watch YouTube video
Check out this YouTube video on our full trip
What is a "Rage Room"?
A Rage Room is a room where you can break and smash stuff safely. It's a great way to get rid of some stress, break a bunch of stuff, and have a little fun while you're at it.
Plus, there's also an option where you can also paint and let out your creative side.
Rage Room Ideas
This is a super fun out of the box experience for co-workers, a group of friends, or even couples.
OPTIONS:
At Break'n Anger, you can choose: the Art Room Package, the Rage Room Package, or a combination of both.
The Art Package
The Art Package is where you get a ton of paint, you can blast it all around the room that you're in, and you can also take home a souvenir of artwork that you made while you're in the Art Room.
The Rage Room
The Rage Room is where you can pick and choose what you want to break and smash.
Combo
We opted for the Combo Package and the VIP option. This included:
a souvenir t-shirt
all the footage we captured (on GoPro)
The Art Package
The Rage Room
Safety
Safety is important when it comes to a Rage Room. We were fully suited up in safety gear.
Safety Gear
The Rage Room safety gear included full jumpsuits, hard hats, face shields, and heavy-duty gloves. The hard hats had these really zany hairstyles which looked pretty fun. I didn't realize how ridiculous and fun they were until I saw our GoPro footage.
There's also another camera that's in the room above you filming everything from a top-down view.
The staff went over a quick briefing of where we could stand within the room to break stuff. There's lines that are on the floor so only one person can be in a specific area at a certain time. The point is to break stuff but in a safe controlled way so nobody's getting crazy or wrecking everything.
Rage Room Experience
This entire experience was a little bit outside of both of our comfort zones. Neither myself or my friend had ever done a raging before, so for us this was kind of fun. We started off slow, throwing a glass here and there, and then as we built up to it, we were going to town with the sledgehammer.
After we finished our 45 minutes in the Rage Room, we took off our safety gear and headed to the Zen Room.
Zen Room Experience (intermission)
This was such a nice chill place to be. There was also a flat screen TV there where we could watch footage of us breaking everything in the room we were just in.
The Art Room Experience
Part three was the Art Room. This one was super fun too. We got a few bottles of paint and we also had these splatter guns. No rules here, you can throw paint at each other on the walls, on the canvas, wherever you want within the room.
We threw it all over the room and on the canvas and we absolutely loved our finished product. We got to keep the 9×12 souvenir canvas that was a nice little souvenir from our actual trip.
Overall Review
Great for:
This was a super nice out of the box thing to do. This is great for a corporate team activity, friends celebrating an event such as a birthday, or just a day out with friends. We chatted with the staff and found that it was really popular with specific friend groups, especially those that are traveling to Hawaii for celebrations such as a bachelorette party or on the flip side for a divorce party as well. We also heard that there's quite a few team builder exercises where teams will go to do the Rage Room together.
Remember to:
You will work up a sweat and remember you have to wear closed-toed shoes which makes sense because you are breaking quite a bit of glass. The jumpsuit that you wear is actually pretty thick too, that way as the glass shatters on the wall none of it will actually get on you because you have that protective gear.
After the Rage Room
After this, we finished up around four o'clock or so, grabbed our souvenir painting, and by this time we had worked up a massive appetite. We each only had a super light lunch, so from here where the Rage Room is located, you're only about a mile down the road from Salt.
Salt is at Kakaako and it's a small group of restaurants, a little bit of shopping, and dining all in that specific area. One of my favorite restaurants that we actually went to right after this trip was Moku Kitchen. Super delicious and tasty and they had a really good happy hour for both drinks and appetizers.
Overall, this was a super fun experience. What do you think of out of the box Hawaii experiences like this?