Prince Kuhio Dinner Cruise
Last year, I did the Prince Kuhio Dinner Cruise and since then there's been a new chef and a new menu. I had to check it out and I've got to say the new menu is significantly better!
If you're looking for a dinner cruise that's small and intimate, this might be a good choice for you. The dinner cruise is also 100% open-air.
Disclosure: This post may contain affiliate links, meaning if you decide to make a purchase through my links I may earn a commission at no additional cost to you. See my disclosure for more info.
Adventure At A Glance
Starting Point:
Kewalo Basin Harbor, Slip F30 | OAHU
Group size:
Maximum: 138-guests
Our Experience:
Watch YouTube video
Check out this YouTube video on our full trip
Check-in
Check-in for the dinner cruise is at Kewalo Basin Harbor. If you're staying in Waikiki, Kewalo Basin Harbor is about 4 miles away. There is limited parking for about $1/hour so if you decide to drive, make sure to give yourselves ample time because if the lot is full, you will have to look for other parking. If you're coming from Waikiki, I would definitely recommend to just be dropped off, whether that's either a taxi or Uber/Lyft.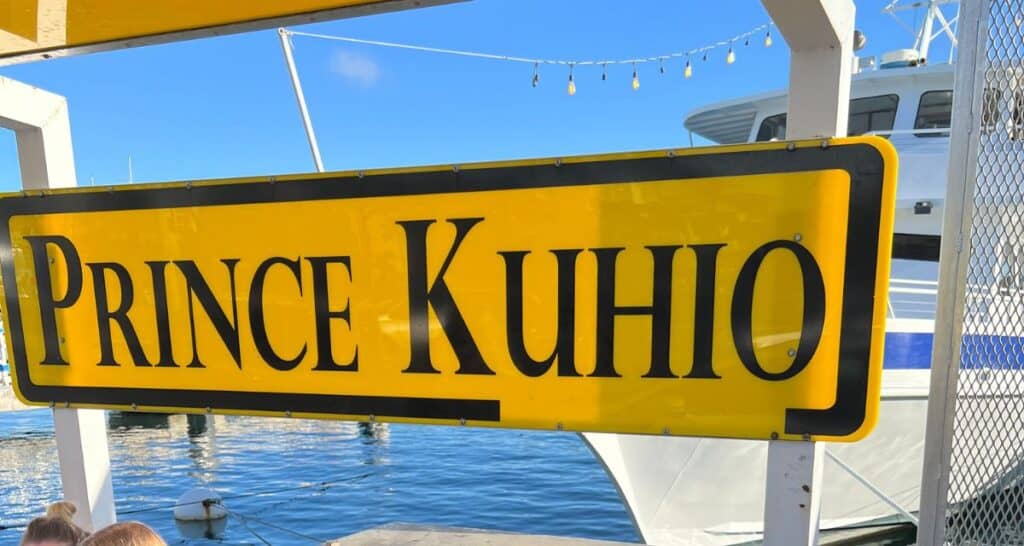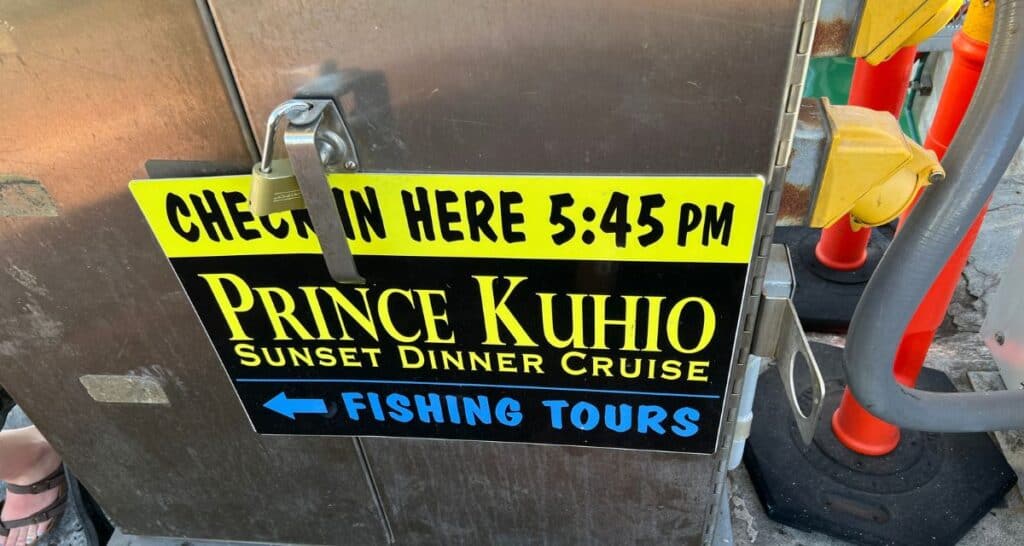 The Prince Kuhio is about 100ft ship and it can hold a max capacity of 138 guests.
If you're looking for a dinner cruise that's small and intimate, this might be a good choice for you. The dinner cruise is also 100% open-air.
Options
You can either purchase tickets for the top deck or there's an economy version if you want to sit on the lower deck. The top deck is 100% open air and that's the one that we did. Check-in at the boat is 30 minutes prior to the start time. We were on the 6 PM Cruise so we checked in at 5:30 PM. Once you board the boat, seating is first come first serve, so if you want to have the best seats, make sure to check in on time.
What to Wear/Pack
The dinner cruise is open air so it is casual. Depending on what time of year you go, make sure to wear your sunscreen. This is especially important if you're going during the summer months of June, July and August. If you choose the top deck, which is 100% open air and there is no shade, when we went, we were on the six o'clock which stayed out for two hours.
Once the sun goes down, it does get pretty breezy out on the water, so I brought a light cardigan or jacket just to have with me for when the sun went down.
Menu
You can either opt for beef short ribs or you can go for Chef's Catch of the Day. I chose the second one, the fish, and it was super delicious. You also get a dessert and on the day that we went, it was cheesecake.
Overall
Overall, the weather was really nice and I didn't have to break out my cardigan until the last 30 minutes of the cruise. So if you get cold easily, I would definitely recommend bringing a light sweater or jacket for the ending part of the cruise once the sun goes down.
Once everyone was served, the chef that had cooked everything came up to each of the different decks to meet everybody. This cruise also departs later (6:00pm at the time of this filming), which gives you more time in your day if you're looking to have more activities in the earlier part of your day.
The dinner cruise is just that: a dinner cruise. You'll have dinner on board but there is no entertainment on board or no other show.
If you're looking for a nice quiet evening to have dinner out on the water, this might be the cruise for you.
Friday Night?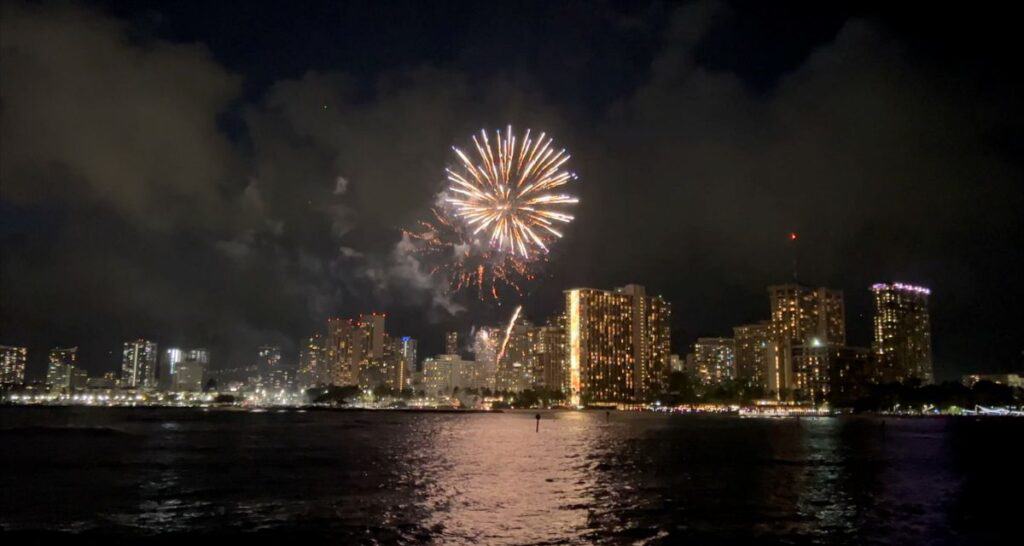 Are you in Hawaii on a Friday night? On Fridays, the Hilton Hawaiian Village shoots off fireworks which can be seen from dinner cruise boats.