Paradise Helicopters Doors Off
Who needs doors? Not us. DOORS OFF HELICOPTER. We're here at Turtle Bay Resort and we're checking out Paradise Helicopters.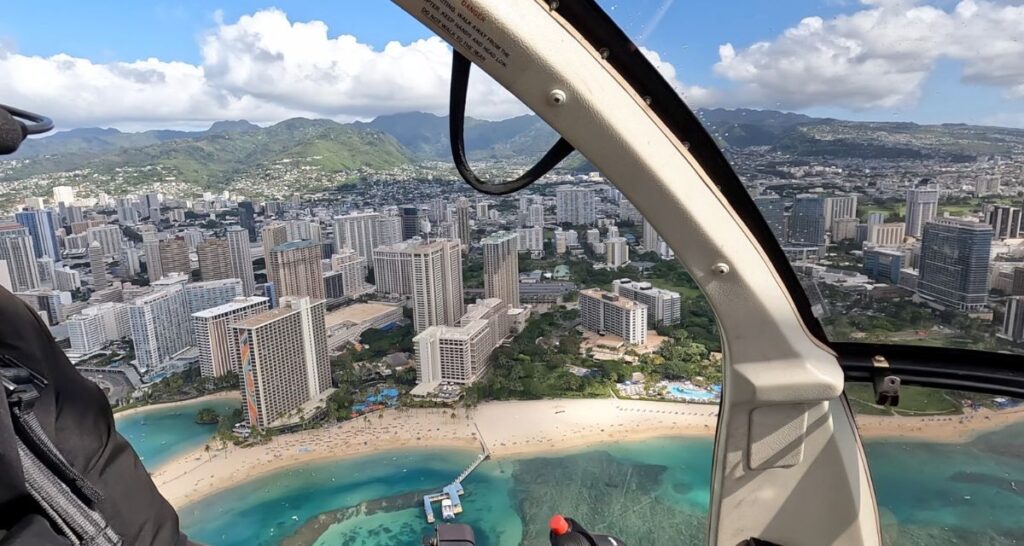 Today we're doing a 60 minute doors-off flight with a special landing at Kualoa Ranch, also known as Jurassic Park, Jurassic World, Jurassic Valley.
Disclosure: This post may contain affiliate links, meaning if you decide to make a purchase through my links I may earn a commission at no additional cost to you. See my disclosure for more info.
We're going to take you guys with us as we explore the island by air!
Our Experience:
Watch YouTube video
Check out this YouTube video for these tips!
For us, we were already staying at Turtle Bay. You can check out this video if you'd like to see our hotel walk through:
Our Flight
Our helicopter ride has been absolutely phenomenal! We started up on the north shore at Turtle Bay Resort. For this 60-minute flight, we flew for about maybe 40-45 minutes then we landed here at Kualoa Ranch and it's absolutely gorgeous.
You're here for about 20 minutes and then after that we're gonna head back up to Turtle Bay. Hands down one of the best helicopter flights that I've ever been on. The landing makes it absolutely gorgeous.
Highlights
• Features: Beaches, waterfalls & rainforest
• Highlights: Sacred Falls, Ko'olau mountains, Kaneohe Bay, famous North Shore surf breaks, and Pearl Harbor
How to Get There
We checked in at Paradise Helicopter's heliport at Turtle Bay Resort.
From here, we took a golf cart to the heliport, less than five minutes, and we'd arrived. They had rentals for your camera, phone, ginger if you get motion sickness, and of course a quick safety briefing and then we were ready to go! Our flight was coming up next.
What to Pack
It is a doors-off flight. Wear/pack a windbreaker jacket.
You'll need to wear closed toed shoes
Any cell phone or camera must be attached with a wrist/neck strap.
Yes to Hawaii is an affiliate partner with Hawaii Activities. If you purchase a tour/activity with the links that we provide, we will receive a small commission – at no additional cost to you! We love sharing what each tour is like so you can choose the best tours/activities for you and your family. We love helping take the guesswork out of your Hawaii trip! Booking the tour through our links helps support us bring you free Hawaii and travel content every single week. Thank YOU! 
Activity:
Adventure
|
Helicopter
|
Unique Experience