Mai Tai sunset sail
Mai Tais. Sunsets. Waikiki, Hawaii. | This sunset sail was an absolutely DELIGHT! They offer a few different times throughout the day. The sunset sail is open-bar. That's right – OPEN BAR.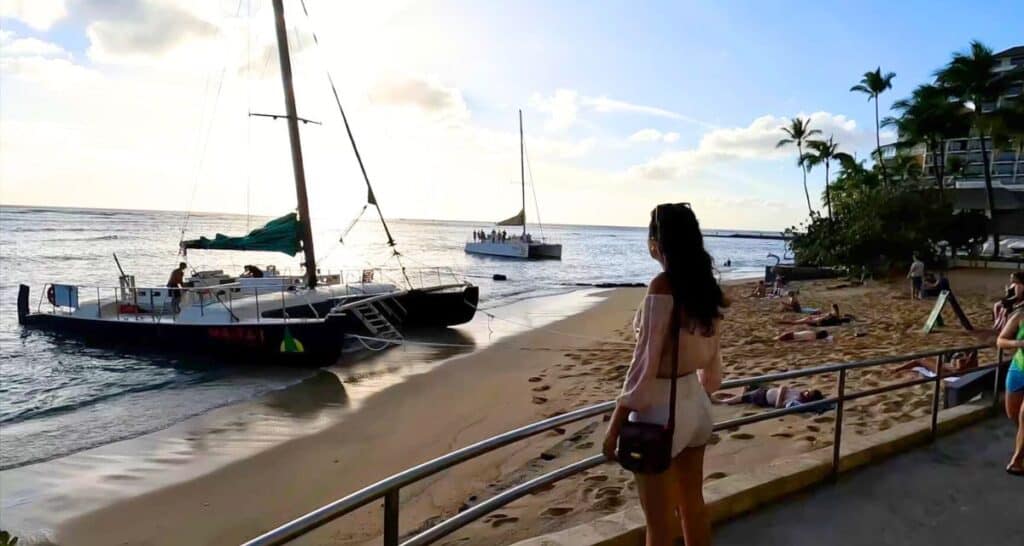 There's also a few non-alcoholic options too! It's about 1.5 hours on the water, with check-in 30-minutes prior to the sail. We check in at their kiosk right on the beach.
Disclosure: This post may contain affiliate links, meaning if you decide to make a purchase through my links I may earn a commission at no additional cost to you. See my disclosure for more info.
Adventure At A Glance
Starting Point:
Waikiki Beach | OAHU
Group size:
49-passengers
What's Provided:
Mai Tais cocktails, beer, wine, champagne, juices, and soft drinks.
What to Bring:
Photo ID (21+ years)
Our Experience:
Watch YouTube video
Check out this YouTube video on our full trip
Beach Catamaran
So much fun! I absolutely love beach catamarans. They are casual and relaxed. This boat did not disappoint. The crew was friendly and we had a few mai tais. Check it out!
Accessibility
Boarding for the Mai Tai catamaran is on the beach. There is no dock or pier. You will need to walk in the water to board the boat. If you prefer a sunset sail with a dock, Port Hilton is the only docked catamaran in Waikiki.
►More Planning Articles: