Mai Tai Catamaran
In this video, we went on an afternoon sail (3pm-4:30pm) on the Maita'i Catamaran.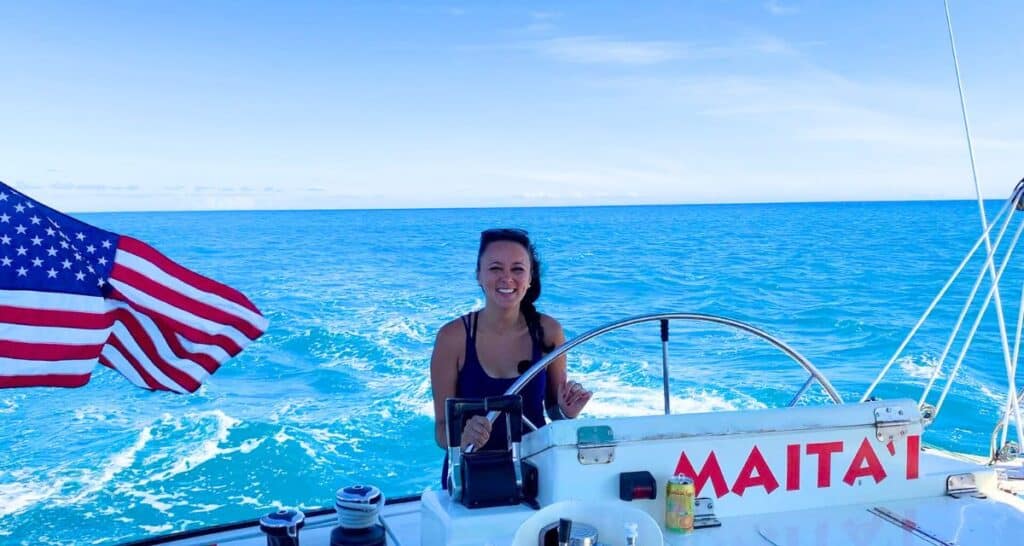 Similar to their sunset option, it's an OPEN BAR which makes it arguably the BEST Waikiki Happy Hour! With great drinks and beautiful ocean views, I think we may have found our new favorite spot!
Disclosure: This post may contain affiliate links, meaning if you decide to make a purchase through my links I may earn a commission at no additional cost to you. See my disclosure for more info.
Adventure At A Glance
Starting Point:
Waikiki | OAHU
Group size:
Maximum: 49-passengers
What's Provided:
Cruise fee / Open bar (all-you-can-drink)
What to Bring:
Photo ID (21+ years old), Sunscreen
Our Experience:
A lot of subscribers have asked where is the BEST place for Happy Hour in Waikiki. We decided to think out-of-the-box and head out to the water for our BEST WAIKIKI HAPPY HOUR. We jumped on the MAITAI CATAMARAN 3pm afternoon sail (1.5 hours) for a fun time!
And…it's OPEN BAR. They have white wine, beer, selzers, mai tais (my favorite), and a mix of non-alcoholic drinks too. Our 3pm sail was 1.5 hours. Perfect timing to head over and grab an early dinner afterwards! They also offer an OPEN BAR sunset sail at 5pm.
Watch YouTube video
Check out this YouTube video on our full trip
Important Info
Check-in Location: At the beach kiosk in between the SHERATON WAIKIKI and HALEKULANI hotels
Beach catamaran?: Yes. Check out this post on beach catamaran vs docked catamaran
Dress/Attire: Casual (ex. shorts & t-shirt/tank)
Bring: Photo ID (21+ years old), sunscreen (no shade!), cash to tip the crew, and your smiles!
Options
Tradewind Sails: 11:00am-12:30pm, 1:00pm-2:30pm
Afternoon Delight Sail: 3:00pm-4:30pm
Sunset Sail: 5:00pm- (departure time varies with season)
Yes to Hawaii is an affiliate partner with Hawaii Activities. If you purchase a tour/activity with the links that we provide, we will receive a small commission – at no additional cost to you! We love sharing what each tour is like so you can choose the best tours/activities for you and your family. We love helping take the guesswork out of your Hawaii trip! Booking the tour through our links helps support us bring you free Hawaii and travel content every single week. Thank YOU!