KUALOA RANCH | 4,000 acres of Jurassic Valley, ATVs
If you're looking for a break from the hustle and bustle of Waikiki, Kualoa Ranch ("Jurassic Valley") is the perfect place. Located only 45 minutes to an hour away from Waikiki, this 4,000 acre ranch is known for its movie sets from Jurassic Park and Jurassic World, but there's so much more to explore.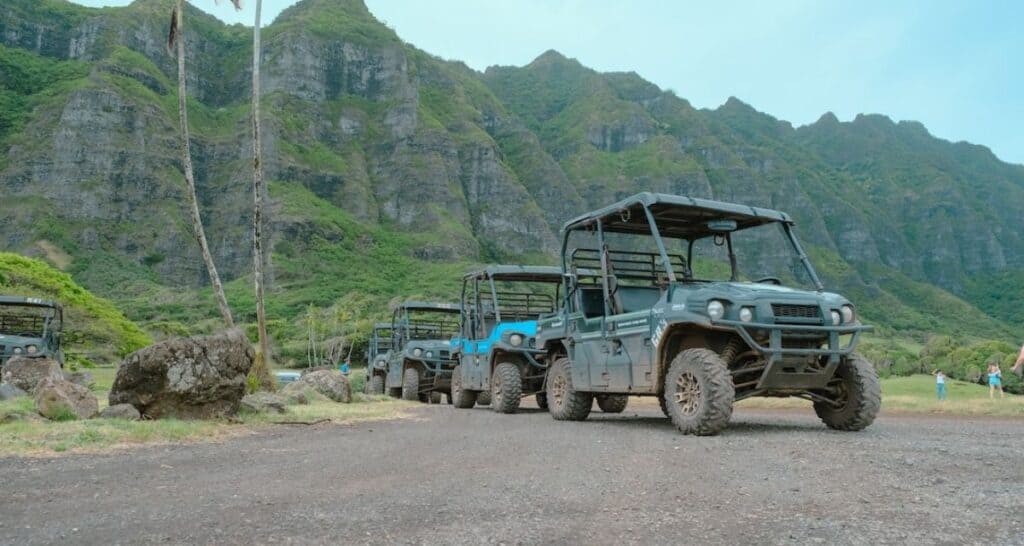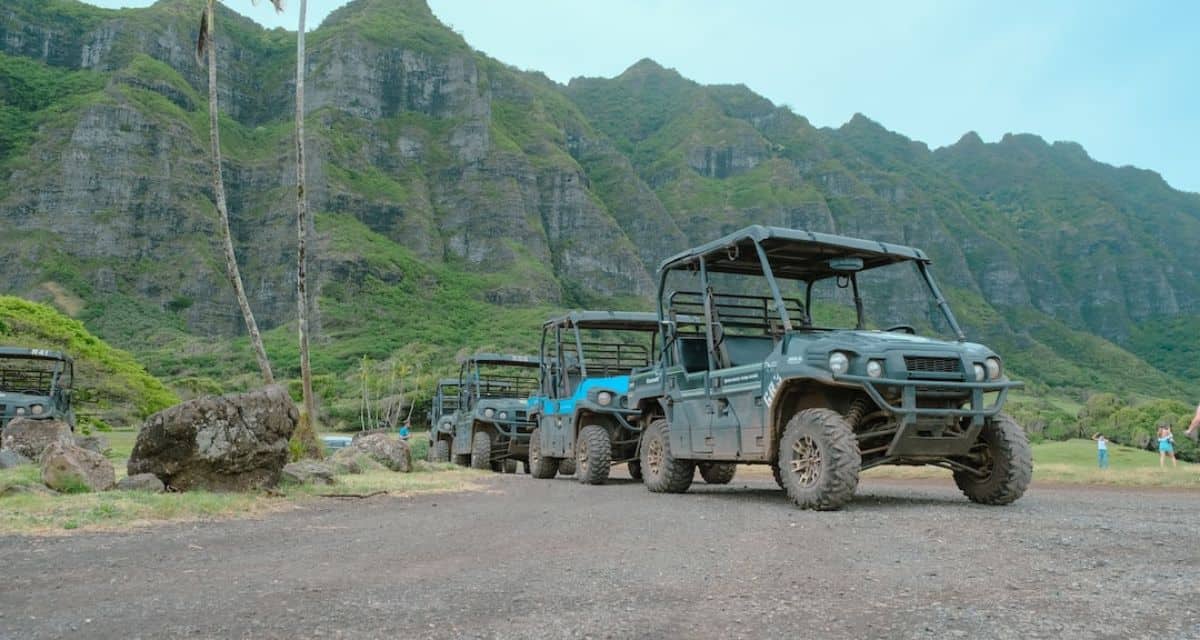 From zip lining to UTVs, electric bikes, kayaking, and secret beaches, there's something for everyone.
Disclosure: This post may contain affiliate links, meaning if you decide to make a purchase through my links I may earn a commission at no additional cost to you. See my disclosure for more info.
Adventure At A Glance
Starting Point:
Kualoa Ranch | OAHU
Group size:
2-6 guests (depending on # of kids)
What's Provided:
Instruction / Equipment rental / Helmet / Guide
What to Bring:
Waterproof case for your phone
Our Experience:
In this video, we take you on the two-hour UTV tour on the multi-passenger Raptor Ride. We'll show you the check-in process, the driving lesson, and the tour itself.
Watch YouTube video
Check out this YouTube video on our full trip
Age Restrictions
Age restrictions: UTV Driver must be 21+ years old with a valid Driver's License. UTV passengers must be 5+ years old.
How to Get There
Kualoa Ranch Shuttle
This is the easiest option if you are staying in Waikiki. Their shuttle is $30 per person + tax, roundtrip.
Drive Out
If you have a rental car, allow about 1 hour to get to Kualoa Ranch from Waikiki. Traffic can be unpredictable (road closures, traffic accidents, etc). If you are driving out, I would recommend going earlier and have breakfast or lunch at Kualoa Ranch. This way, you're already in the right area – and you don't have to worry about missing your tour.
Check-in Process
The check-in process was pretty easy. We had a safety briefing, grabbed wristbands, filled out paperwork, had helmets and glasses, and then we were o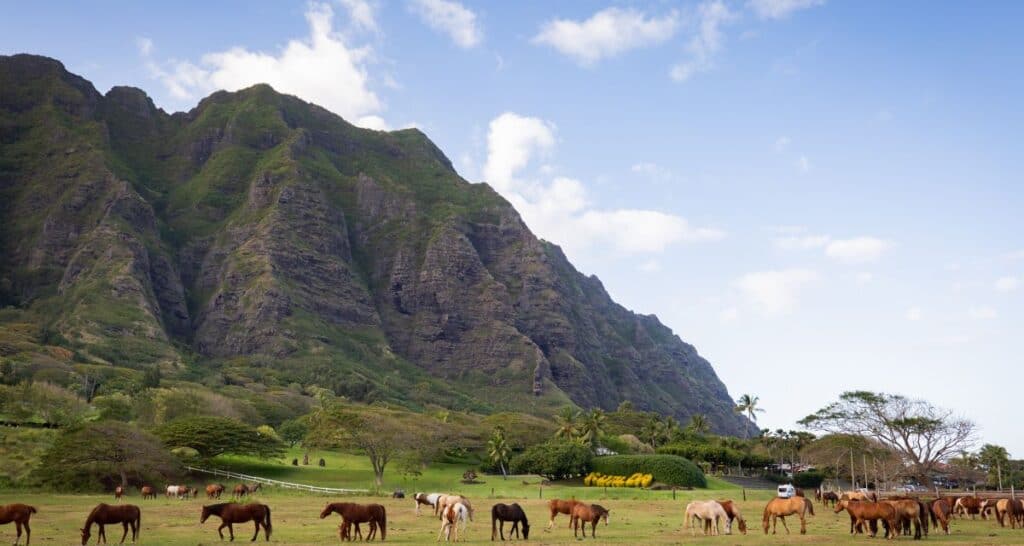 Driving Lesson
We headed over to grab our ATVs and get a quick driving lesson. Safety first of course, and then we were off to Jurassic Valley.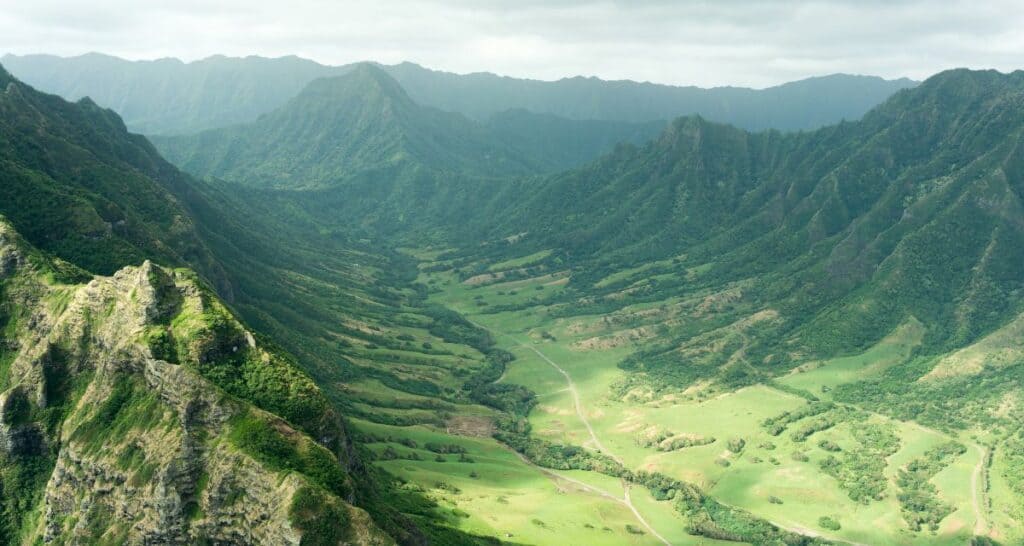 The Tour
We stopped at our first stop after the UTV ride and we were inside the valley. We passed a ton of movie sites, including Godzilla, 50 First Dates, You, Me, Dupree, and even the show Lost. If you don't want to drive as much, this is the perfect spot to switch drivers.
At the second stop, we got to meet some dinosaurs (haha) and learn how the sets are made. We hit the halfway point and it was a great spot to switch out drivers.
At the third stop, we were right in front of an ancient Hawaiian fish pond. It's over 900 years old. Not only were we riding through Jurassic Park and Jurassic World, but we were also learning a lot about Hawaiian history and culture.
Our guides, Robert and Matt, were absolutely phenomenal. We still had a little bit more on the tour.
Places to Eat
Kualoa Ranch has a restaurant within it. You can purchase quick grab-and-go options, a buffet, or ala carte menu options. We had garlic shrimp and the Kualoa burger – both were super delicious!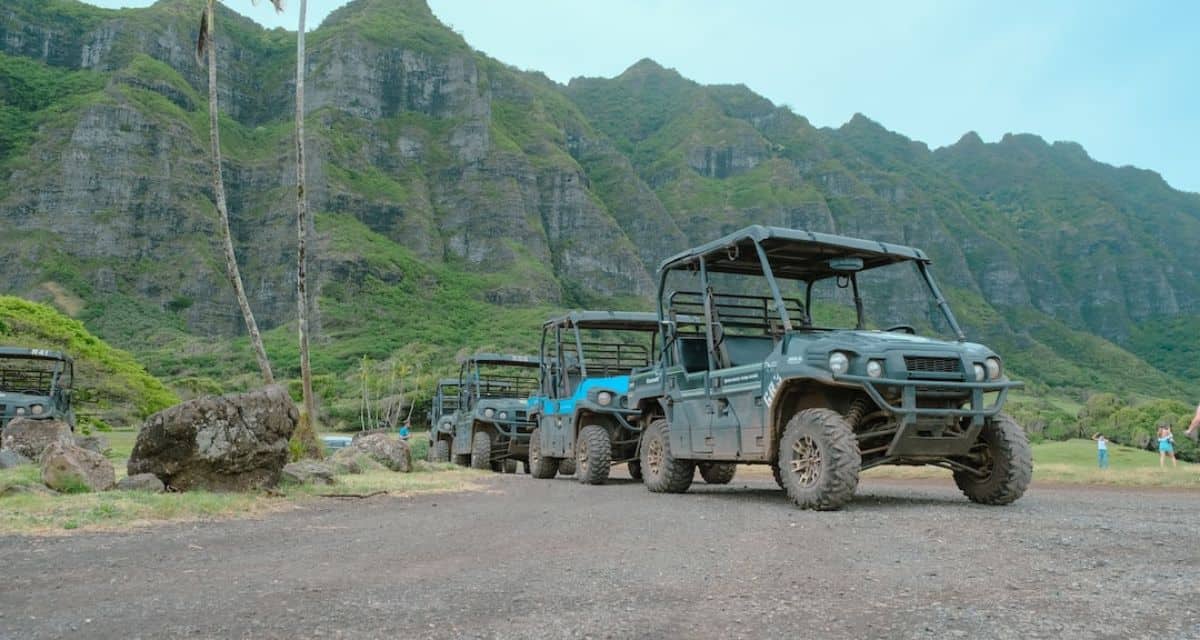 Why We Love Kualoa Ranch
Kualoa Ranch is the perfect place to get away from the hustle and bustle of Waikiki. With 4,000 acres of Jurassic Valley, ATVs, zip lining, UTVs, electric bikes, kayaking, secret beaches, and more, there's something for everyone. We had a great time on the two-hour UTV tour, and our guides Robert and Matt were phenomenal. We learned a lot about Hawaiian history and culture, and we had a great time.
RELATED KUALOA RANCH POSTS:
What to Pack | 10L Dry Bag
I would recommend a drybag. This tour runs RAIN or SHINE.
I bought the one below in black and absolutely loved it for this tour. It's also one of the few I found that had a clear window (rather than completely opaque) so you can see your stuff.
It's a 10L which is just the right size to toss in everyone's cell phones (for photos!), wallet, etc. As you saw in the video, there are streams you can drive through – and this dry bag kept all of our electronics dry.
The ride is also really bumpy. I liked that this had a clip where I could easily clip the bag onto the bars so I didn't have to worry about the bag getting tossed around or falling out of the UTV
Yes to Hawaii is an affiliate partner with Hawaii Activities. If you purchase a tour/activity with the links that we provide, we will receive a small commission- at no additional cost to you! We love sharing what each tour is like so you can choose the best tours/activities for you and your family. We love helping take the guesswork out of your Hawaii trip! Booking the tour through our links helps support us bring you free Hawaii and travel content every single week. Thank YOU! 
Activity:
Adventure
|
Guided Land Tours
|
Unique Experience