Chiefs Luau
In this article, we share what it was like to go to Chief's Luau.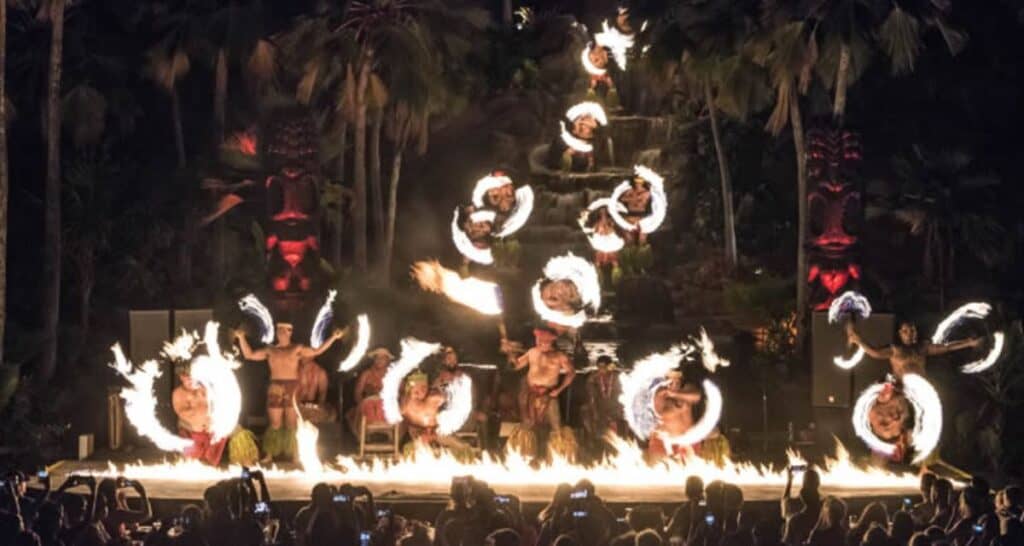 Love, love, LOVE this fire-knife show! Unlike other luaus that only have a few fire-knife dancers, this one has 8!
Disclosure: This post may contain affiliate links, meaning if you decide to make a purchase through my links I may earn a commission at no additional cost to you. See my disclosure for more info.
Adventure At A Glance
Duration:
3.5 hours (5.5 hours with transportation)
What's Provided:
Dinner, Show (drinks and seating varies by package)
What to Bring:
Photo ID (21+ years), Light jacket (winter season Dec-Feb)
Our Experience:
Watch YouTube video
Check out this YouTube video on our full trip
How to Get There
Open?: Daily, except Tuesdays and Saturdays
Transportation?: Available. It is +$39 per person for roundtrip transportation.
Parking?: Available. It is $10.00 (cash only) per car.
Duration: Approximately 4pm-8pm (Luau 5:30pm-8:15pm)
Distance from Waikiki: 25 miles (40 km) from Waikiki. Without traffic, this can take 35-minutes however with traffic (especially Mondays/Fridays), this same drive can take 45-60 minutes. Allow 1-hour transit time in case of unpredictable traffic.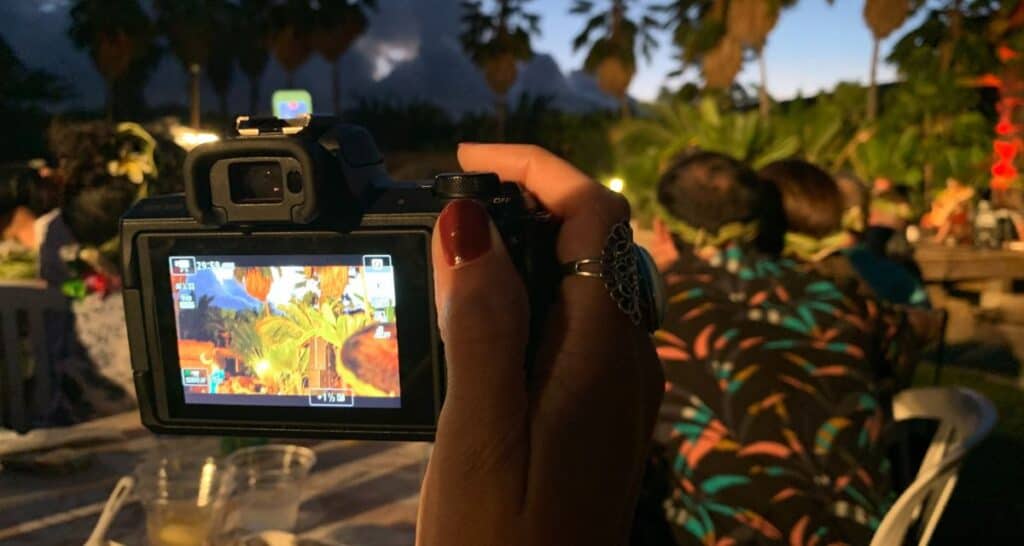 What to Expect
NOTE: We attended this luau in June 2021 when COVID-19 restrictions were still in effect.
Luau Package Options
There are two (2) main seating options:
1. Paradise (General option)
2. Royal (VIP option)
It's about a $40 difference between the two packages. Should you do the Royal Package?
***NOTE: At time of filming (June 2021), only two seating options (Paradise and Royal) were available. As of now, a 3rd option is available (Aloha) at $143pp
In a word? Maybe. 

If you're planning on purchasing more drinks, they run about $10 each. With the Royal/VIP, you get 2 additional drink tickets (value: about $20). You also get a fresh-flower lei and and a souvenir gift. So, if you're planning on having a couple more drinks, you're essentially paying $20 for better seating. 
Seating is a tricky thing. It doesn't matter – until it does. If you're in the back of the Paradise/General section? Well…that extra $40ish makes it worth it.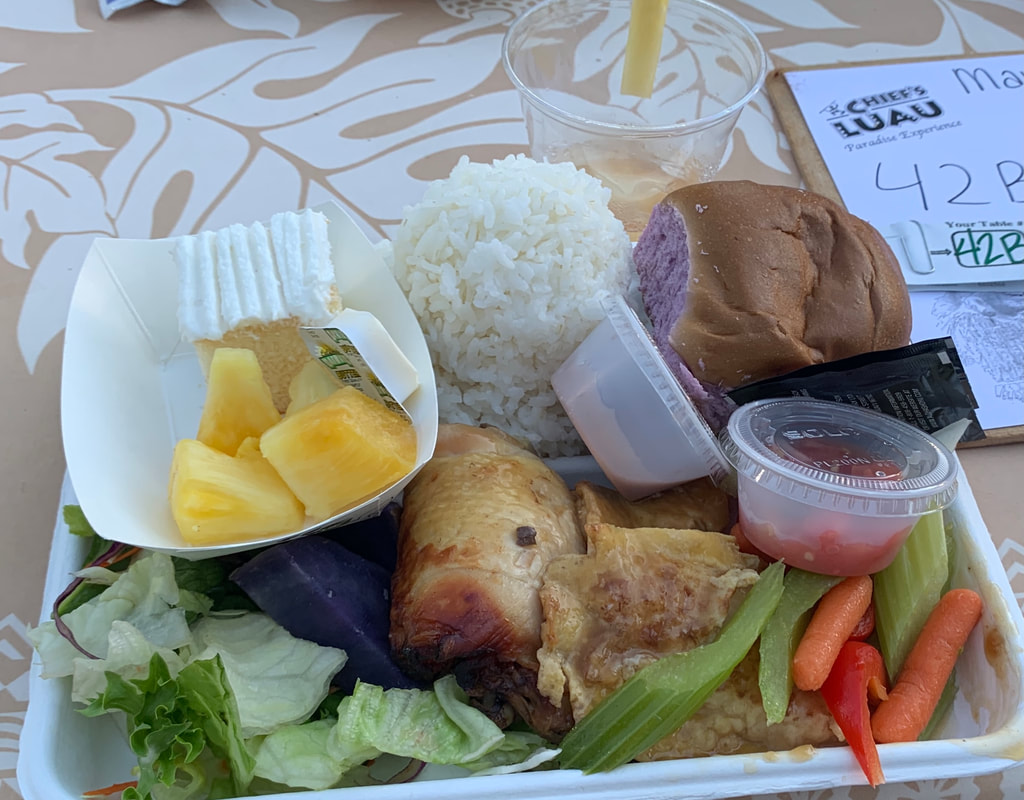 Paradise Experience $180
(General)
**Reduced pricing for children/teens
**NOTE: At time of filming (June 2021), this seating was $155pp
Royal Experience $227
(VIP)
Seating: Royal/Front section
Lei: Fresh flower lei
3 adult beverages + 1 Mai Tai greeting (total 4)
Souvenir Gift
**Reduced pricing for children/teens
**NOTE: At time of filming (June 2021), this seating was $195pp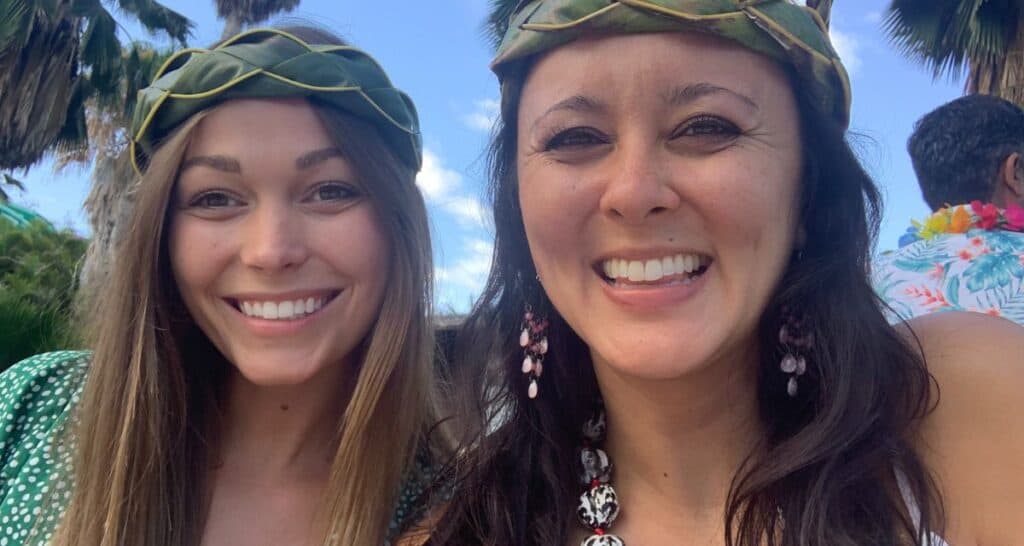 What to Wear
Luaus are 100% outdoors. If you are attending a luau in our winter season of Dec-Feb, it can be breezy at night. I would recommend a light jacket for when the sun goes down.
Yes to Hawaii is an affiliate partner with Hawaii Activities. If you purchase a tour/activity with the links that we provide, we will receive a small commission – at no additional cost to you! We love sharing what each tour is like so you can choose the best tours/activities for you and your family. We love helping take the guesswork out of your Hawaii trip! Booking the tour through our links helps support us bring you free Hawaii and travel content every single week. Thank YOU!