MAUI Helicopter ride….with landing!
In this article, we are going to take you on an exciting helicopter ride from Oahu to Maui. But this isn't just any helicopter ride – we're going to experience a landing as well! So buckle up and get ready for an adventure in the skies of Maui.
Did you know you can do a helicopter LANDING?!
Disclosure: This post may contain affiliate links, meaning if you decide to make a purchase through my links I may earn a commission at no additional cost to you. See my disclosure for more info.
Adventure At A Glance
Starting Point:
Kahului Heliport (OGG) | MAUI
What's Provided:
West Maui (25 min), Landing (20 min), East Maui (45 min)
What to Bring:
Wear dark colored clothing (ex. black or navy blue)
Our Experience:
This is hands down my FAVORITE helicopter ride on Maui!
Watch YouTube video
Check out this YouTube video on our full trip
Arrival in Maui
We started our day bright and early, catching the first flight from Oahu to Maui. After landing at the MAUI Airport (Airport code: OGG) at around 6:45 am, we quickly grabbed our rental car and made our way to the heliport.
Our helicopter ride was with Blue Hawaiian Helicopters, and we were booked for the Maui Spectacular tour, which is a 90-minute experience including a 60-minute flight and a 20-minute landing at the ranch.
Safety Briefing and Boarding
Once we arrived at the heliport, we went through the check-in process, which was quick and easy. After that, we headed over to start our safety briefing. We watched a short video that explained everything we needed to know about the tour. With the briefing complete, we were ready to board the helicopter.
Our ride for the day was an Eco star helicopter, and we were assigned seats based on our weights. The helicopter had seating for six people, and we were excited to get inside and start our adventure.
Taking Off and Flying Over Maui
As we took off from the heliport, we couldn't help but be amazed by the stunning views of Maui. The flight offered breathtaking ocean views and allowed us to see different parts of the island. We flew all around the island, taking in the beauty of Maui from above.
One tip we learned during the flight was to avoid wearing patterned shirts.
As we saw in the video, the pattern reflected in the glass and affected the quality of our photos and videos. It's best to wear solid colors like black or navy blue to avoid any distractions in your visuals.
The Landing Experience
One of the highlights of this helicopter ride was the landing. After flying for about 60 minutes, we arrived at our landing spot, which was a beautiful green area. It was truly a unique experience to touch down in a helicopter and step out onto the ground.
The landing gave us a chance to steady our legs and take in the surroundings. It was a great opportunity to capture some photos and enjoy the beauty of the location. We even had the chance to wave to our pilot before getting back on the helicopter.
Continuing the Flight and Learning About Maui
After the landing, we continued our flight, exploring more of Maui from the skies. Our pilot provided us with noise-canceling headphones, which allowed us to hear their narration about the different parts of the island. It was an interactive tour, as we could ask questions and learn more about Maui's history and landmarks.
The flight showcased the diverse landscapes of Maui. We saw lush green areas, waterfalls, and even parts of the famous Road to Hana with its twist turns and one-lane bridges. The views were absolutely breathtaking, and we were in awe of the natural beauty surrounding us.
As the flight came to an end, we couldn't help but feel a sense of gratitude for the incredible experience we had just had. It was truly a once-in-a-lifetime adventure (technically twice for me – I first did this flight back in 2018).
Planning Your Own Maui Adventure
If you're inspired to plan your own Maui adventure, we have a free Hawaii travel planner printable that you can use. This printable includes everything you need to jot down your hotel details, rental car information, tours and activities, and a general itinerary. It's a simple and convenient way to keep all your travel plans organized.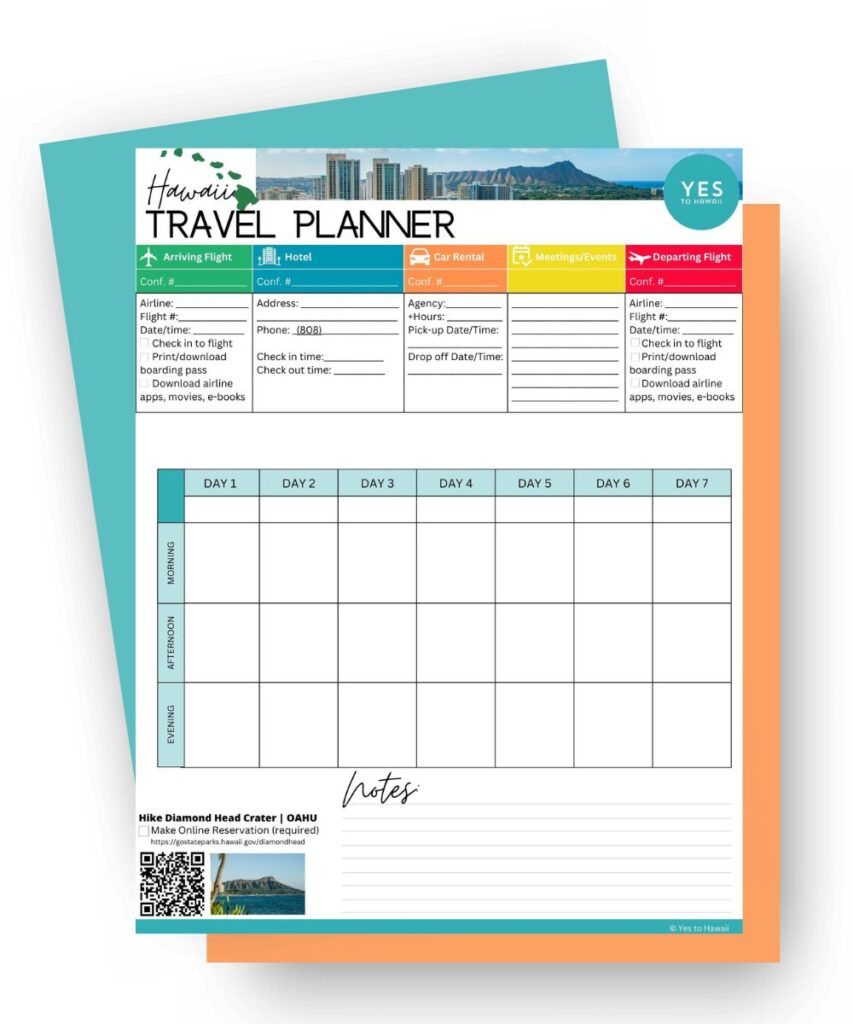 In addition, we have a helpful guide on how to plan a travel itinerary in Hawaii. This guide will provide you with tips and suggestions to make the most of your time on the islands and ensure a memorable trip.
Conclusion
Our helicopter ride on Maui with a landing was an unforgettable experience. From the moment we took off to the moment we touched down, we were in awe of the stunning landscapes and breathtaking views. The landing added an extra element of excitement and allowed us to truly appreciate the beauty of Maui.
If you're planning a trip to Maui, we highly recommend considering a helicopter ride. It's a unique way to see the island from a different perspective and create memories that will last a lifetime. So, buckle up and get ready for an adventure in the skies of Maui!