Port Waikiki Hilton | Snorkel with TURTLES
What an absolutely great day trip! The location right in Waikiki makes check-in easy. This catamaran also has a covered cabin for shade!
And the best part? So many turtles!
Disclosure: This post may contain affiliate links, meaning if you decide to make a purchase through my links I may earn a commission at no additional cost to you. See my disclosure for more info.
Adventure At A Glance
Duration:
2.5 hours (10:30am-1:00pm)
Starting Point:
Port Hilton | Waikiki | OAHU
Group size:
Maximum: 80-passengers
What's Provided:
Snorkel mask and fins; Lunch + two (2) drinks
What to Bring:
Swimsuit, Towel, Change of clothes
Our Experience:
Watch YouTube video
Check out this YouTube video on our full trip
Timing
This cruise runs from 10:30am-1:00p (10:00am check-in). It's the perfect time for those who'd like a more relaxed morning and still have good snorkeling visibility. You start your morning off with snorkeling. Then, everyone boards the boat to go sailing. Your have lunch and 2 drinks while you're sailing so it's absolutely gorgeous!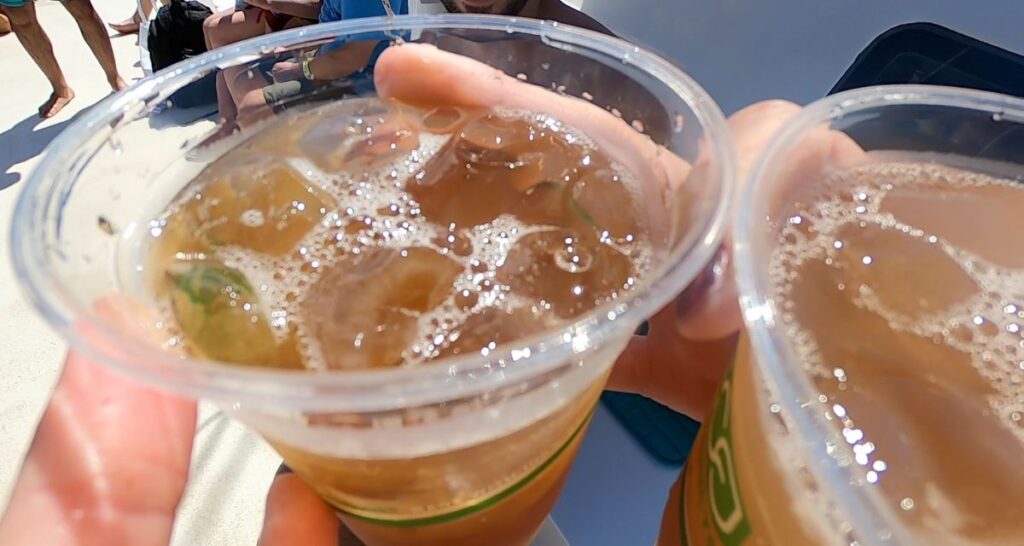 Docked Catamaran
Docked catamarans like this one are great for those traveling with little ones (who might not be as eager to walk in the water or time the waves), for those with mobility issues, or for those who would just prefer a traditional boarding via pier/dock.
The Review
Overall, I absolutely loved this snorkel cruise. It had a few nice touches which a lot of the other catamarans do not have:
DOCKED catamaran (easy accessibility)
COVERED CABIN (for shade from the sun) – I liked this as I was on the nets in the sun for the most part but I liked that when I had too much sun, I could take a break and be in the shade
LUNCH – It was so nice after a lot of swimming and snorkeling to get a nice yummy turkey wrap and chips. The meal was light but after all that swimming, it was more than enough for me!
DRINKS – Alcoholic or non-alcoholic. It includes two (2) tickets. After snorkeling, we used them for the Mai Tais and they were extra tasty!
What to Pack:
Reef-safe sunscreen
Towel
Cash for the bar (and to tip your crew!)
Photo ID (21+ years old)
Favorite Dry Bag:
I'd also recommend that you bring a DRY BAG! There's an area where you can stash your stuff but since I normally carry a film gear and mics for YouTube videos, I like the peace of mind of keeping everything in my bag nice and dry.
I own all three of these below:
35L dry bag backpack in Yellow
25L dry bag backpack in Mint (more of a turquoise blue than a mint green)
10L dry bag in Black
My Snorkel Gear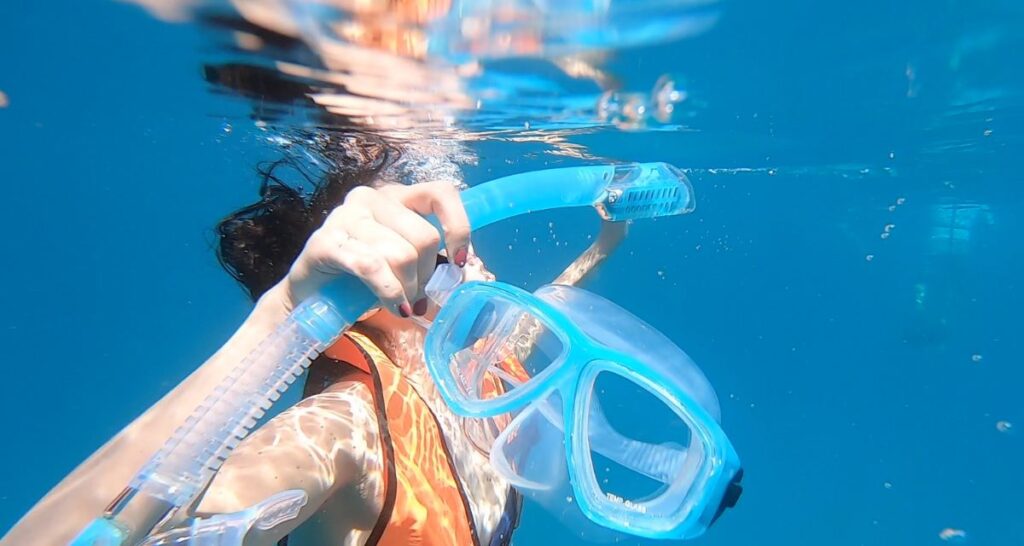 This snorkel cruise includes snorkel, mask AND fins. However, I prefer to bring my own snorkel mask and fins.
Most snorkel boat trips provide snorkel masks that are black around the face area which I find to be a little claustrophobic. I prefer to bring my own snorkel mask because I like the snorkel masks that are clear (like the one above) around my face. It's a small change but I enjoy it so much more!
Yes to Hawaii is an affiliate partner with Hawaii Activities. If you purchase a tour/activity with the links that we provide, we will receive a small commission – at no additional cost to you! We love sharing what each tour is like so you can choose the best tours/activities for you and your family. We love helping take the guesswork out of your Hawaii trip! Booking the tour through our links helps support us bring you free Hawaii and travel content every single week. Thank YOU!