Pearl Harbor Full Day Tour
Pearl Harbor is a truly memorable experience and I would highly recommend every visitor to the islands to visit. Visitors can opt to visit Pearl Harbor on their own or with an organized tour.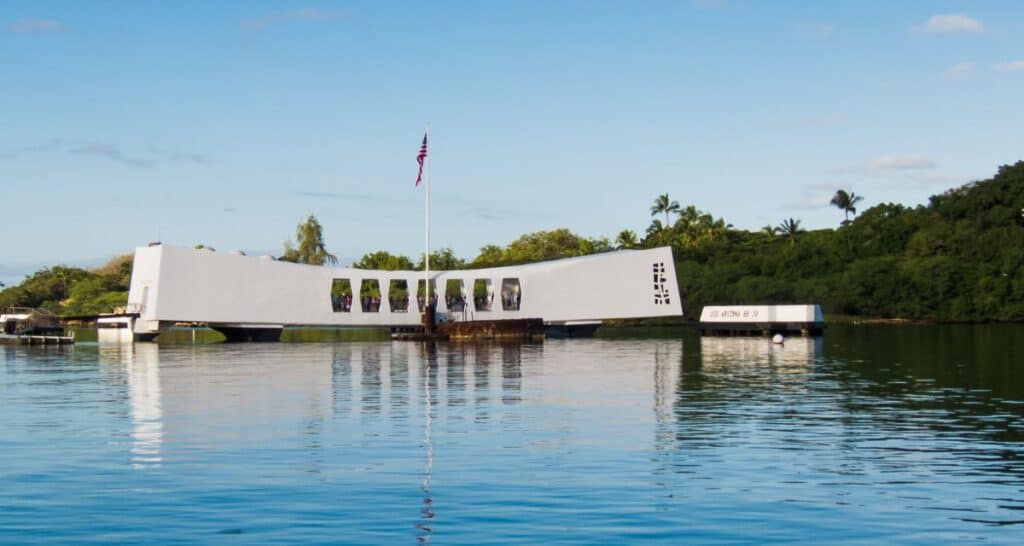 In this video, I'm going on a full day Pearl Harbor tour with Polynesian Adventure Tours. I'll show you a little bit of each attraction so you can get a sneak peek of what you can see at Pearl Harbor.
Disclosure: This post may contain affiliate links, meaning if you decide to make a purchase through my links I may earn a commission at no additional cost to you. See my disclosure for more info.
Adventure At A Glance
Starting Point:
Waikiki Hotel pick-up | OAHU
What's Provided:
Inclusions: Soft drinks / Juice / Bottled water / Lunch / Transportation fee / Guide / USS Missouri Admission / USS Bowfin Admission / Pacific Aviation Museum Admission / Pearl Harbor Visitor Center Virtual Reality Experience & Audio Guide
What to Bring:
Government-issued Photo ID
Our Experience:
Watch YouTube video
Check out this YouTube video on our full trip
IMPORTANT INFO:
NO BAGS are allowed at Pearl Harbor (except clear bags like those allowed at football stadiums)
More info: https://www.nps.gov/perl/planyourvisit/safety.htm
"Bags, packages, or containers that offer concealment, such as purses, handbags, backpacks, fanny packs, camera bags, diaper bags, luggage, etc. that exceed the measurements of 1.5″ X 2.25″ X 5.5," are not allowed at the monument. The Pacific Fleet Submarine Museum operates a baggage storage facility near the entrance to the visitor center. There is a fee per bag for all sizes, including luggage. Visitors may use the same bag storage and parking stall for visits to all Pearl Harbor Historic Sites. Security measures are strictly enforced at all visitor destinations on Pearl Harbor."
Photo ID is required on Ford Island
If you're not sure which attractions at Pearl Harbor you'd like to visit just yet, check out the links below for each attraction. I've included virtual tours of each of the different attractions for you to check out and see which attractions you'd like to visit while you're there.
If you'd like more information on Pearl Harbor, I've also included a link for a video visiting Pearl Harbor explain it.
WHAT TO EXPECT
Pearl Harbor is a military base and it's huge.
The full day Pearl Harbor tour streamlines everything: transportation, tickets, you get narration to and from each of the sites, and lunch at the Aviation museum – so they make it easy.
The full day Pearl Harbor tour is great if you are short on time but want to see as much as possible. It also works well if you like the idea of having a narrated tour between the different attractions – a great option for history buffs who want to learn as much as possible about World War II.
**NOTE: At the time of this filming, COVID-19 vaccination cards or negative COVID-19 tests were required. As of March 2022, this is no longer required.
What You'll See on the Tour
On the tour, you'll visit Pearl Harbor's four historic sites:
USS Arizona Memorial
USS Missouri Battleship
Aviation Museum
USS Bowfin Submarine & Submarine Museum
You'll also visit the Pearl Harbor Visitors Center (17-acres) and the two museums.
Related Videos:
USS Bowfin Submarine & Museum
Yes to Hawaii is an affiliate partner with Hawaii Activities. If you purchase a tour/activity with the links that we provide, we will receive a small commission – at no additional cost to you! We love sharing what each tour is like so you can choose the best tours/activities for you and your family. We love helping take the guesswork out of your Hawaii trip! Booking the tour through our links helps support us bring you free Hawaii and travel content every single week. Thank YOU!