Most AFFORDABLE Snorkel Boat
How to Snorkel with Turtles. Waikiki, Hawaii. MANA KAI Catamaran is a great affordable no-frills option to take you snorkeling! You get snorkel rental gear and an inflatable snorkel vest (no fins/flippers!). We saw TONS of turtles!
It's definitely worth the early start! And the best part? The boat is located right here in WAIKIKI across from the Duke Statue (not to be confused with DUKE'S restaurant). If you're staying in Waikiki, it's an easy walk right to the boat.
Disclosure: This post may contain affiliate links, meaning if you decide to make a purchase through my links I may earn a commission at no additional cost to you. See my disclosure for more info.
Adventure At A Glance
Starting Point:
Waikiki Beach | OAHU
Group size:
Maximum: 25-passengers
What's Provided:
Snorkeling equipment (snorkel, mask, fins) / Snorkel vest
What to Bring:
Swimsuit, Towel, Sunscreen
Our Experience:
Watch YouTube video
Check out this YouTube video on our full trip
How to Snorkel with Turtles in Waikiki
It's a question we've been asked a lot! Where is the BEST PLACE to snorkel with turtles in Waikiki? Turtle Canyon – where the turtles get their shells cleaned by the fish. In this video, we take you with us as we hop on a BEACH CATAMARAN here in Waikiki to get to TURTLE CANYON.
How to Get There
This catamaran is located right in Waikiki, across from the Duke Statue. If you're staying in Waikiki, the easiest way to get there is to walk. So it is about 8:15 in the morning and we're just about to board. Let's head over there!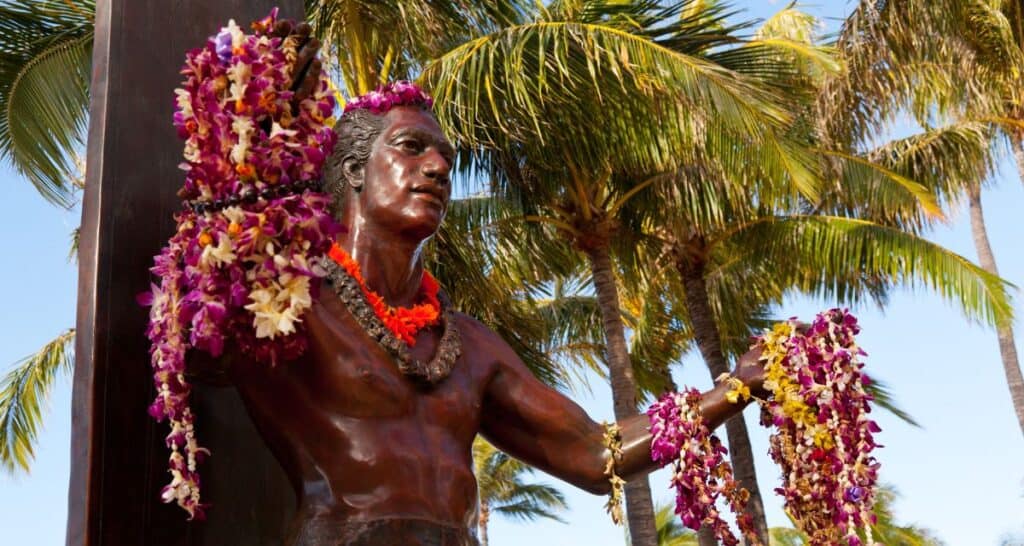 This catamaran pulls up on the beach right in front of Duke Statue (not to be confused with the restaurant Dukes). It is so early, we're right across from the Duke Statue and that's where the boat picks up. It's a beach catamaran, so it picks up right here on the beach itself – as in no dock or pier.
On Board
Although Turtle Canyon is a popular spot, this is a good thing with going early – less boats out on the water at 8:30 in the morning. We left the shore at about 8:30am. In about 20 minutes, the boat had reached Turtle Canyon and was anchored (they use underwater mooring buoys) and we were ready to jump in the water.
Turtle Canyon
Turtle Canyon is amazing for snorkeling here in the Waikiki area to see fish and of course turtles.
Snorkel Vests
If you're really comfortable in the water, the captain said that we could just deflate them. It just makes it easier for them to see you. And then if you aren't comfortable in the water, you can actually inflate these.
These snorkel vests are super easy to put on. You put them on over your head. There's a strap that goes around your waist and between your legs. And then if you need the buoyancy, there's a tube on the left hand side where you can put in air to blow up the vest.
Visibility
Visibility here, as you can see, is excellent. As we're looking around, you can see it's getting a little bit more crowded now that everybody is in the water, but still not bad. The visibility is good and if you look beneath you, you might be lucky to see some scuba divers. Typically certified scuba dives are in the early morning and that's what these are. Lots of bubbles here.
What to Pack
Waterproof Bag
The number one thing that I would highly recommend that you bring is some sort of waterproof bag. People are getting on and off the boat, they're wet, and water is dripping from them. If you have something valuable that you don't want to get wet, such as any camera gear or cell phones, it is an excellent idea to get a waterproof bag.
My favorite waterproof bag is a 25 liter in mint green. It's padded, has clips to make it comfortable, and it's completely waterproof. It's also big enough to fit a towel, cell phone, hat, and whatever else you need. It also has a clip section to clip on your sandals, flip-flops, or slippers, so they don't get misplaced. There's an outside zipper for you to put more things, but this is not waterproof. On the inside of the bag, there's an inside pocket where you can put your wallet and cell phone.
Size: 25L, Color: mint green
Buoyancy Belt (if needed)
If you are not the strongest swimmer, I would recommend getting some sort of buoyancy belt or something that makes a little bit more comfortable. They do have these inflatable vests however, if you're not the strongest swimmer, you might need a little bit more buoyancy.
Flipper Rentals
Also, I would recommend flipper rentals. With this particular cruise, it is a no-frills. You get the snorkel rental and then you also get this inflatable vest. Flippers are not included. It is one of the more affordable cruises only about $60 per person compared to others that are upwards of $90 to $100, so that makes sense. However, if you do want to get the best snorkeling experience, I would highly recommend that you either rent or purchase slippers to bring with you on this cruise. So that way you can still get the affordable price of the $60 or so dollars, however you do have flippers.
Baby Shampoo (snorkel mask defog)
One thing I definitely recommend that you bring as well is that if you have a small travel size container of baby shampoo, bring that with you to use as defog for your snorkeling gear. This particular boat didn't include any defog solution, but that could have definitely been a game changer for me when I was on this specific cruise.
Yes to Hawaii is an affiliate partner with Hawaii Activities. If you purchase a tour/activity with the links that we provide, we will receive a small commission – at no additional cost to you! We love sharing what each tour is like so you can choose the best tours/activities for you and your family. We love helping take the guesswork out of your Hawaii trip! Booking the tour through our links helps support us bring you free Hawaii and travel content every single week. Thank YOU!