Makani Catamaran | Sunset Sail
Sunset Sail. Honolulu, Hawaii. | Love, love, LOVE catamarans! I've lived on Oahu for ages but I still love sailing the Waikiki skyline.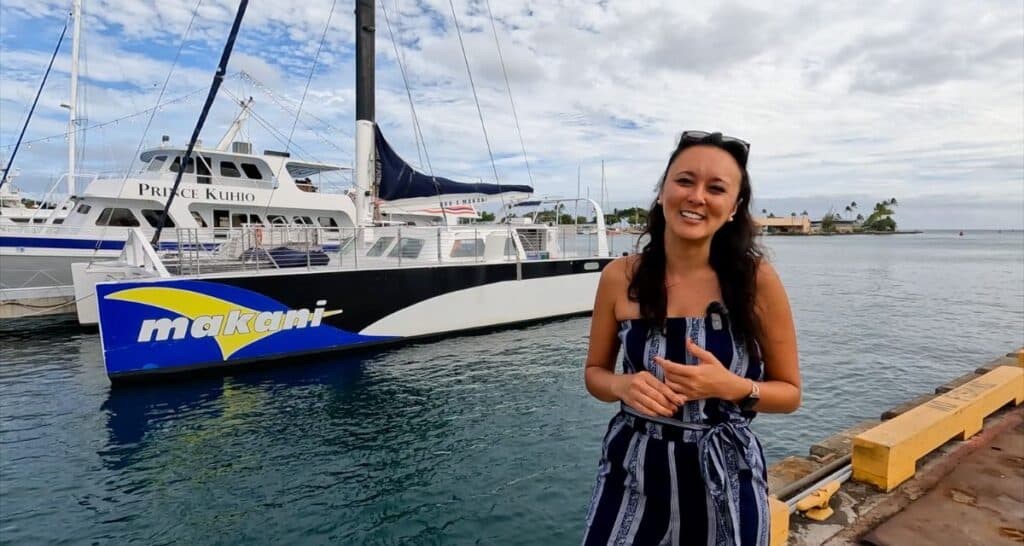 There's something really beautiful about seeing all of Honolulu by the Ward area where the harbor is, the Waikiki skyline with all the hotels, and then DIAMOND HEAD CRATER (extinct volcanic crater).
Disclosure: This post may contain affiliate links, meaning if you decide to make a purchase through my links I may earn a commission at no additional cost to you. See my disclosure for more info.
Adventure At A Glance
Duration:
2 hours (5:00PM-7:00PM, seasonal start times)
Starting Point:
Kewalo Basin Harbor | OAHU
What's Provided:
Sailing with drink for-purchase (or +$20 for open bar)
What to Bring:
Photo ID (21+ years)
Our Experience:
This boat is a dream. I absolutely love catamarans and the MAKANI CATAMARAN does not disappoint. The catamaran was so spacious – Length 64ft x Width 32ft (19.5m x 9.7m). This is larger than the beach catamarans in Waikiki.
Watch YouTube video
Check out this YouTube video on our full trip
If you haven't sailed in Waikiki before, know that it does get quite breezy. I wore a comfy capri-length romper (no Marilyn Monroe skirt incidents for me!) and packed a light cardigan. While it doesn't get cold in Hawaii, it can get a little chilly once the sun goes down and you're sailing. I wanted to spend as much time as possible on the nets outside so a light cardigan was perfect.
This catamaran is also a DOCKED catamaran instead of a BEACH catamaran. For those where accessibility may be a factor, click here to read my comparison of DOCKED vs BEACH catamarans.
For those wondering, this catamaran does have two (2) restrooms on-board.
Boat specs: Length 64ft x Width 32ft (19.5m x 9.7m), Max. Capacity 79-guests
How to Get There
The MAKANI CATAMARAN is located at KEWALO BASIN HARBOR. If you're staying in Waikiki, KEWALO BASIN HARBOR is about 4 miles (6.4km) west of Waikiki. West would be going AWAY (instead of TOWARD) from Diamond Head crater.
Recommended
While there is limited parking, I'd recommend a drop-off with a TAXI or using UBER/LYFT. From Waikiki, it took us about 15-20 min drive with traffic.
If you're unfamiliar with the harbor, it's always best to get there a little early so you have ample time to find the boat.
Check-in Process
This was easy. When we got to KEWALO BASIN HARBOR, the very 1st row of boats is commercial boats. MAKANI CATAMARAN was on the far RIGHT when you're facing the ocean. It was right beside a food truck where we picked up some yummy $5.00 bentos before the sail. And these bentos were SO YUMMY! Since the sunset sail only came with drinks (open bar option), we wanted to grab a light bite before the sail. These bentos had the heartiest portions for just $5.00. Worth it!
We opted for the OPEN BAR OPTION so at the check-in kiosk, we were given wristbands.
Know Before You Go
Check-in Time? 4:30PM (for 5:00PM Sail, seasonal times)
Bathrooms? Yes, 2 on-board
Is this a barefoot sail? No, you can leave your sandals on.
Accessibility | How do you board the boat? This is a docked catamaran. You'll walk down the pier, there are stairs (a few steps up, flat surface, then a few steps down). Read more about DOCKED vs BEACH catamarans HERE.
Activity Highlights
This is a detailed list of inclusions directly from Makani Catamaran's website:
Fully USCG certified & state-of-the-art catamaran
Friendly & experienced crew
Bose surround sound stereo system
Covered & open-air seating
Dual restrooms
Full bar selection
Eco-friendly & biodegradable cups, plates, & cutlery
Frequent sightings of turtles & dolphins
Humpback whale sightings (Seasonal)
Spectacular views of Honolulu, Waikiki, & Diamond Head
A beautiful Hawaiian sunset
2-hour sailing cruise
Options
Beyond the sunset sail, MAKANI CATAMARAN also offers day sails and a Friday fireworks sail! The day sail is good if you'd like to relax in the sun. There is NO SWIMMING on any of the sails…but if you sit on the nets when the crew is sailing fast, you'll probably get splashed!
DAY SAIL
Check out their day sails:
8:00AM-10:00AM (seasonal)
11:00AM-1:00PM
2:00PM-4:00PM
FIREWORKS SAILS
Fireworks sail (7:30PM-8:30PM)
What to Pack
Sunscreen (It's Hawaii and the sun rays can be strong, a little sunscreen goes a long way)
Sunglasses (would recommend POLARIZED, click HERE for my favorites)
Comfortable footwear (I wore simple sandals)
Light jacket if you tend to get cold (I packed a light cardigan in my purse)
Yes to Hawaii is an affiliate partner with Hawaii Activities. If you purchase a tour/activity with the links that we provide, we will receive a small commission – at no additional cost to you! We love sharing what each tour is like so you can choose the best tours/activities for you and your family. We love helping take the guesswork out of your Hawaii trip! Booking the tour through our links helps support us bring you free Hawaii and travel content every single week. Thank YOU!