Holokai Catamaran
In this article, we share with you one of our FAVORITE beach catamarans in Waikiki. The convenient location in Waikiki makes it easy for those staying at a Waikiki hotel.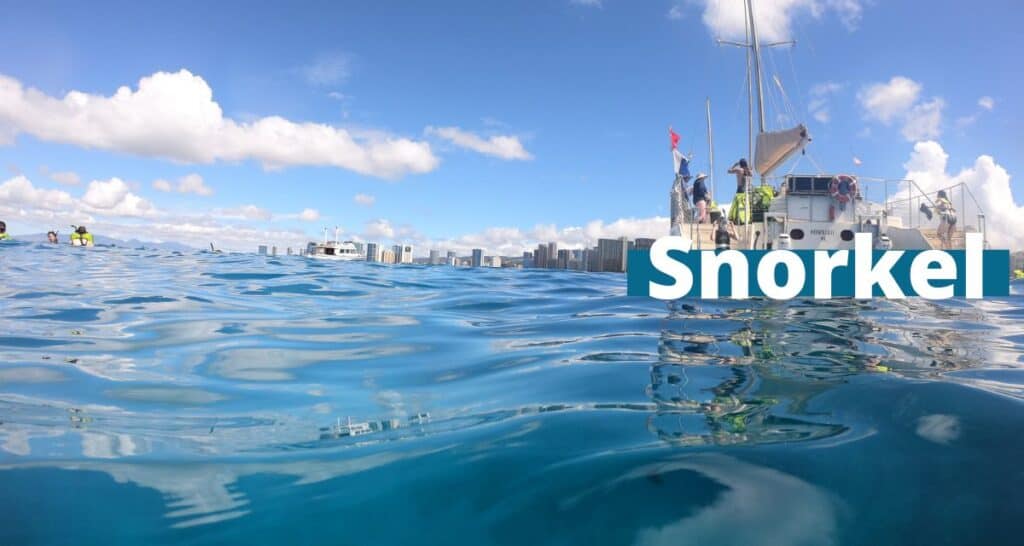 This snorkel cruise is available both for the morning and afternoon. Turtle Canyon is a popular spot for Hawaiian green sea turltes to get their shells cleaned by tropical fish.
Disclosure: This post may contain affiliate links, meaning if you decide to make a purchase through my links I may earn a commission at no additional cost to you. See my disclosure for more info.
Adventure At A Glance
Duration:
2.5 hours (9-11:30am OR 12-2:30pm)
Starting Point:
Waikiki | OAHU
Group size:
Maximum: 49-guests
What's Provided:
Snorkeling equipment (snorkel, mask & fins) / Snorkel Vests
What to Bring:
Swimsuit, Towel, Photo ID (21+ years), Cash for alcoholic/non-alcoholic drinks
Our Experience:
Overall, we absolutely LOVED this trip!! Check out the video for our full review.
Watch YouTube video
Check out this YouTube video on our full trip
How to Get There
We chose the 9 a.m. snorkel cruise, which had an 8:30 check-in. On the day of the cruise, I received a text from Holokai Catamaran with all the information I needed to know.
To check in, we headed to their storefront, located at 226 Lewers Street on the second floor. If you're familiar with the Waikiki area, you might remember seeing a Yard House. Take the escalator to the second floor and look out for someone wearing the Holokai uniform.
What to Expect
Holokai Catamaran is a beach catamaran, meaning the boat comes right up on the sand itself. Boarding is easy – you'll walk right out onto the sand and there's a ladder right in the middle of the boat. Keep in mind you do have to time the water just right, otherwise you'll get splashed. Make sure you wear shorts or something that is at least knee-high so your clothes don't get wet.
We head to TURTLE CANYON – a turtle cleaning station where the turtles get their shells cleaned by the fish. We had about three boats on the water – a catamaran, a dive boat, and another catamaran. We got some turtles and a bunch of fish.
On this cruise, you get a circle vest that inflates, a whistle in case of emergency, snorkel fins, and adjustable fins that are super comfortable.
Options
9:00am-11:30am or 12:00pm-2:30pm
UPDATE: Safe Access Oahu
*** THIS PROGRAM IS NO LONGER IN EFFECT AS OF MARCH 2022***
At the time of this filming, there was a recent mandate for the Safe Access Oahu Program. Certain businesses are affected, one of which is recreational commercial boating. For this specific mandate, everyone has to show either proof of vaccination (fully vaccinated meaning two weeks has passed since your last COVID vaccine dose) or a negative COVID test taken within 48 hours of the cruise itself.
Yes to Hawaii is an affiliate partner with Hawaii Activities. If you purchase a tour/activity with the links that we provide, we will receive a small commission – at no additional cost to you! We love sharing what each tour is like so you can choose the best tours/activities for you and your family. We love helping take the guesswork out of your Hawaii trip! Booking the tour through our links helps support us bring you free Hawaii and travel content every single week. Thank YOU!