BEST Small-Group snorkel tour | Turtle Canyon
Are you looking for a unique snorkeling experience with turtles? Look no further! In this article, we review the experience of snorkeling at Turtle Canyon with Captain Max boat cruises. The turtles came up to the surface right beside the boat!
This small-group boat tour takes you to snorkel at Turtle Canyon and back in groups of 6-guests or less!
Disclosure: This post may contain affiliate links, meaning if you decide to make a purchase through my links I may earn a commission at no additional cost to you. See my disclosure for more info.
Adventure At A Glance
Starting Point:
Kewalo Basin Harbor | OAHU
Group size:
Maximum: 6-guests
What's Provided:
snorkel mask, fins, life jacket
What to Bring:
swimsuit, towel, bottled water
Our Experience:
Watch YouTube video
Check out this YouTube video on our full trip
What is Turtle Canyon?
Turtle Canyon is a reef formation just off the coast of Waikiki, where Hawaiian green sea turtles get their shells cleaned by the fish. It's a popular snorkeling spot and a lot of boat cruises will take you there.
How does it work?
We checked in with Captain Max boat cruises at Kewalo Basin Harbor, which is about three or four miles from Waikiki. The boat is a 32 foot high-speed rigid hull inflatable boat, which is really small and quick. The groups are limited to just 6 guests plus a captain and one crew member, providing a nice small and intimate experience.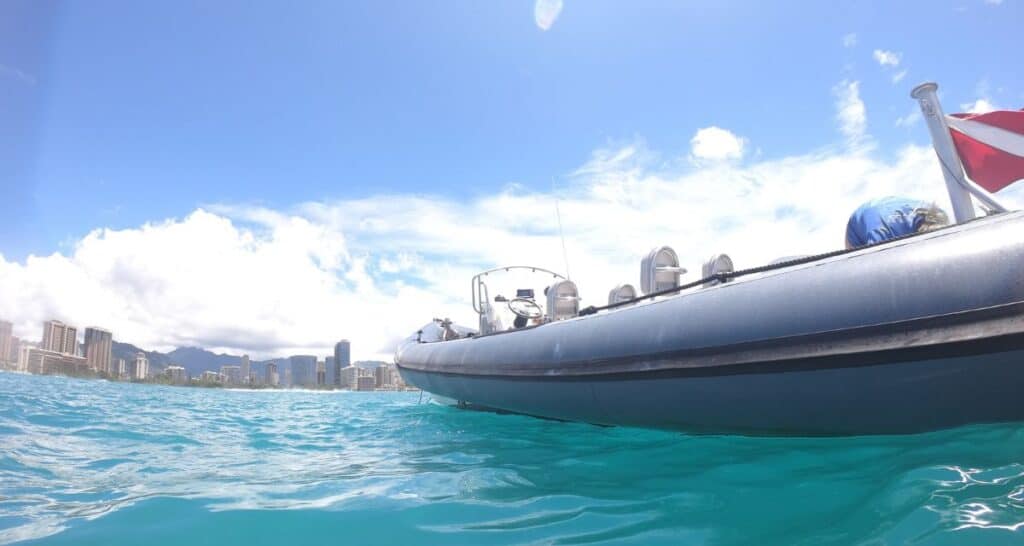 Once the boat was set, the captain gave us the green light and we were able to put on our snorkel gear and hop in the water.
The cruise INCLUDES snorkel mask, fins and a life jacket. This is important to note because most snorkel cruises only provide snorkel vests – which are inflatable vests. The captain stayed on the boat and the crew member was in the water with us the entire time as our in-water guide.
The cruise runs multiple times throughout the day, so if you want a specific time or specific day it's definitely good to book early. Especially since it only takes 6-guests!
What to wear and bring
Wear your swimsuit underneath your clothing because there's nowhere to change on the boat. There's also no bathrooms on board but the harbor does have a public restroom. The boat is 100% open with no shade, so definitely make sure to pack or wear your reef safe sunscreen.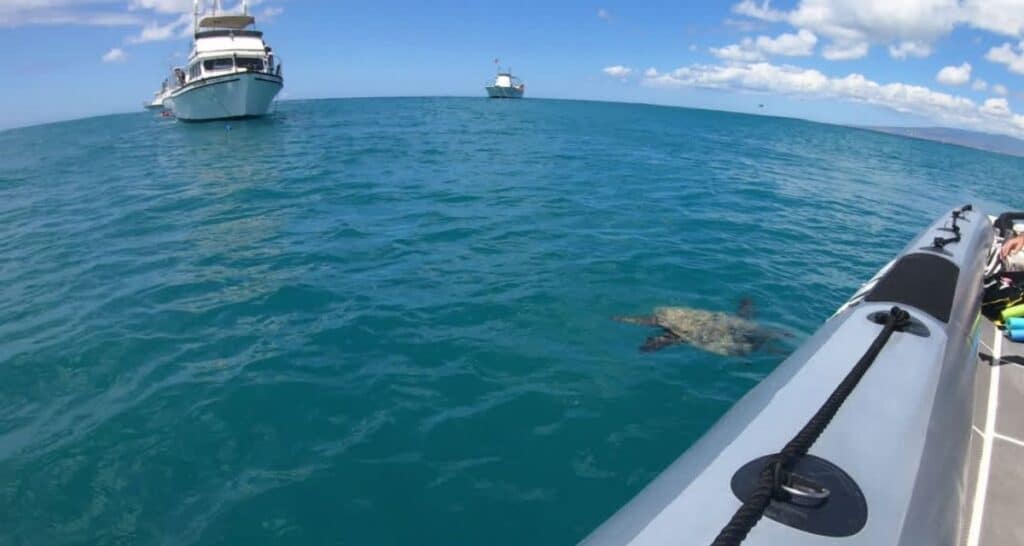 I prefer my own gear so I always bring my own snorkel gear but snorkel rentals are included with the tour. I'd also recommend packing sunglasses and a hat because the boat is completely open and there is no shade. I'd also recommend bringing a bottle of water as well.
Overall Review
I really like this tour. I love snorkeling and this boat did not disappoint. This trip is great if you're looking to snorkel and come back right afterwards. The whole cruise is only 1.5 hours. There's no food or drink served on board and you're not sailing afterwards. You're going just to snorkel with turtles and coming back right after.
The boat departs from Kewalo Basin Harbor. If you're staying in Waikiki, Kewalo Basin Harbor is about 4 miles from Waikiki. While there is paid parking at the harbor, keep in mind that the harbor can get very busy. If you decide to drive, give yourselves ample time to find parking in case the parking lot is full.
Visibility varies
I've been to Turtle Canyon on days where the visibility is so clear you can see fish and turtles in the water from the boat. I've also been on other days where there's High Surf and the visibility is less than great.
Overall, this is a great tour if you're looking for a short 1.5 hour long activity. It's perfect if you're looking for a small group snorkel experience to just go snorkel and come back afterwards. If you're prone to motion sickness and very long boat rides don't work well for you, this entire cruise is only 1.5 hours.
Book Direct: